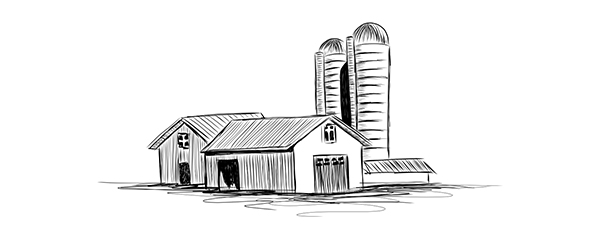 ---
With a changing climate, the agriculture industry is enduring extreme weather events more than ever — and farmers and producers are on the frontlines.
---
They are adapting, building on the industry's culture of continuous improvement, and providing eco-solutions. But farmers and ranchers need a seat at the table to help solve this global problem. That is why leaders from across the food and agriculture sector came together to form the Decade of Ag movement — a first-of-its-kind, collaborative effort for the industry to fight climate change with nature-based solutions.
---
Today, more than 160 U.S. farmers and ranchers, individual leaders, industry organizations, and businesses like POET have signed on to this bold movement to build a new future for food and agriculture by 2030. They are committed to action, day in and day out, because they know this sector is critical to solving this problem now. Agriculture is on a path to cut its carbon footprint in half using best practices and existing technologies. With innovation and investment, projections show it could be net negative.
---
While there are many ideas for reducing greenhouse gas (GHG) emissions, the one way to meet sustainable goals with urgency is through our land. Plants eat carbon for lunch, literally. If we mean business about reducing carbon emissions, we need to fully unleash the power of plants.
---
When we make use of the bioproducts coming from our farms, we are harvesting the sun, storing its energy, and then using it as fuel. Think of it as "solar energy" in your gas tank. While we hear debates over renewable electricity versus fuels to power transportation, the reality is that we need both for decarbonization, and plants and renewable biofuels are powerful tools to reduce GHGs in our air.
---
Imagine if we double-downed on nature-based solutions and truly leveraged all we could in our sector. We could sustainably nourish more people and improve our quality of life — providing abundant food, fiber, and renewable bio-based products to help the world make critical progress on the United Nation's sustainability goals. At the same time, the bioeconomy would foster economic resiliency among agricultural communities across America and provide environmental benefits that extend far beyond their borders.
---
We have the science, the technology, and the people to transition to a net-zero GHG economy, with agriculture playing a key role. Too often, that story of innovation and good disruption gets lost at a time of urgency to implement decarbonization solutions. We need a decade of action because no other sector can solve climate change like agriculture. It will require collaboration across the entire value chain to raise awareness that drives investment and changes to reach these goals. As the secretariat for the Decade of Ag, USFRA invites you to join us in this movement.
---
U.S. Farmers & Ranchers in Action (USFRA) is a farmer-led 501(c)(3) comprising 30+ organizations, representing more than 700,000 farmers, ranchers, and leading brands that are collaborating to advance meaningful action and results in the co-creation of solutions for sustainable food production, climate change, and economic sustainability.
---