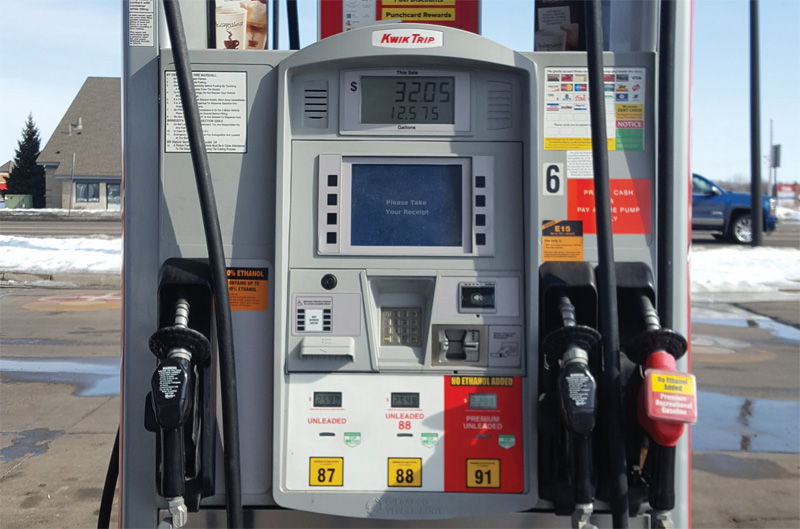 ---
Since President Trump announced in October 2018 that he would lift restrictions on year-round E15 sales, many gasoline retailers across the industry have responded with gusto.
---
From Iowa-based Casey's to Massachusetts-based Cumberland Farms, big name retailers have expressed increased interest in selling E15, also known as Unleaded 88, a federally approved biofuel with 15 percent ethanol and 85 percent gasoline. Casey's and Cumberland Farms are the two latest retailers to sign on with new Prime the Pump partnerships.
---
Prime the Pump targets highvolume, high-profile retailers and assists those retail adopters of higher-level biofuel blends by awarding grants to help with their initial investments in fuel dispensing infrastructure to support E15.
---
This fall Casey's announced it will expand its offering of E15 to potentially more than 500 of its locations over the next few years and will soon be the nation's largest E15 retailer. Cumberland Farms will begin offering E15 at more than 120 of its stores over the next four years.
---
There's also been growth in another key area that has potential to pave the way to even more robust growth of retailers offering the product: terminal availability. Terminals, or fuel distribution facilities, are the major method to deliver fuel into the marketplace. For retailers that use terminal delivery to offer E15, they purchase the product, it's delivered to the gasoline station and it's dispensed as E15.
---
Delivery of E15 via terminals hasn't been widespread, and many retailers instead have typically blended their own E15 using a blender pump. Blender pumps mix E85 with E10/87 octane regular fuel to make E15 at the convenience store.
---
"In a lot of cases without terminal supply that's been the approach we've brought to the market," said Mike O'Brien, Vice President of Market Development for Growth Energy, the largest trade organization in the biofuels industry.
---
But recent retail station targeting from Prime the Pump has put pressure on fuel terminals to start offering E15 on a much broader basis, O'Brien said.
---
And by having increased terminal supply in place, those in the industry expect even more accelerated growth of gasoline retailers offering E15.
---
"In the last six to eight months, we've seen the terminal growth with E15 explode," said O'Brien. Growth Energy works with gasoline retailers across the country who are interested in selling E15 and other higher blends through the Prime the Pump campaign.
---
Having E15 available via terminals means that a retailer can use existing equipment with minimal upgrades, which typically means the retailer can more quickly add E15 to more sites, O'Brien noted.
---
With terminal supply in place, O'Brien expects to see more examples of rapid E15 expansion like Kwik Trip has undergone. The Wisconsin-based retailer joined Prime the Pump in May 2017 and expanded from zero to 350 sites offering E15 in less than six months.
---
Prime the Pump's Chairman, Ray Defenbaugh, attributes the ramp up in E15 supply at terminals across the country to the partnerships with big name retailers like Kwik Trip and Casey's.
---
"Our strategic retail partnerships have been a game changer that's ushered a significant increase in E15 supply at terminals across the country. These include groundbreaking partnerships with Kwik Trip, QuikTrip, Casey's, RaceTrac and Cumberland Farms, which have pushed open the doors to terminal availability across most of the country," said Defenbaugh, who is also the President, CEO and Chairman of Big River Resources.
---
That targeted approach has tipped the scales for many terminals to offer E15, said Majda Olson, Director of Communications, Growth Energy. "That's what we've been trying to do all along: Work with the big players to move the market."
---