---
Several years ago, NASCAR made a commitment to go Green and be a true environmental leader, and we began blazing trails in recycling, land conservation, carbon neutralization, and alternative energy.
---
For the 2011 season and beyond, our sustainability goals will reach new levels with a new, greener fuel made with American ethanol…from corn grown in our nation's heartland.
---
The entire NASCAR community is extremely proud to support the American farmers contributing to our new fuel – Sunoco Green E15, which is testing with more horsepower and performing at a level that we are very pleased with.
We are equally proud to partner with the American Ethanol industry led by Growth Energy.
---
As the sport's sanctioning body setting an ambitious environmental initiative, we took time to determine the best direction and the right partner to help with a renewable fuel. It became clear American Ethanol led by Growth Energy is a highly committed group delivering on the promise of cleaner energy while creating new jobs and a renewed sense of pride for American workers.
---
I had the chance to meet some of the fine, hardworking farmers and members of the ethanol supply chain when our new partnership was announced during NASCAR Champions Week in Las Vegas. Indeed, NASCAR and American Ethanol are ideal partners. NASCAR is a family-owned American sport…and ethanol is produced from the harvest of American-owned farms across our heartland.
---
I'm very excited about this partnership – for our sport, our environment, and our country. The NASCAR-Growth Energy alliance is broader and more ambitious than just about any sports sponsorship. An entire industry is looking to NASCAR to communicate its message to tens of millions of devoted race fans. Study after study shows these fans are the most passionate and supportive of sponsors in all of sports.
---
American Ethanol has a smart, fully integrated plan to connect with NASCAR fans. There will be support to drivers, teams and tracks through a broad range of marketing, advertising, at-track hospitality programs, as well as a season-long Contingency award, called the "American Ethanol Green Flag Restart Award," given to the driver with the fastest average speed during the first two laps of all restarts per race. The American Ethanol logo will surround the fuel port on every car in the NASCAR Sprint Cup Series, the NASCAR Nationwide Series and the NASCAR Camping World Truck Series, making it visible to the 80 million fans who tune to a NASCAR race each year.
From the garage to the grandstands, the farmers and businesses aligned with Growth Energy will be immersed in NASCAR. I am thrilled to welcome each of you to our sport, and hope to see you at a race or two.
---
NASCAR is coming off one of the most competitive and exciting seasons in our history. At the 2011 Daytona 500 on February 20th, your American Ethanol logo will be on the green flag starting the "Great American Race"…and our 63rd season. And American-made ethanol will be helping the world's greatest drivers roar around the storied high banks of Daytona International Speedway. I couldn't be prouder.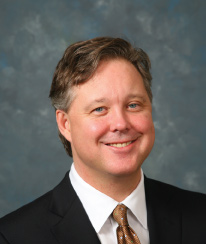 ---
Brian Z. France assumed the roles of NASCAR Chairman and CEO in October 2003. He is the grandson of founder William H.G. ("Big Bill") France, and the son of NASCAR Vice Chairman William C. France. NASCAR is the second most-watched sport in the U.S.
---