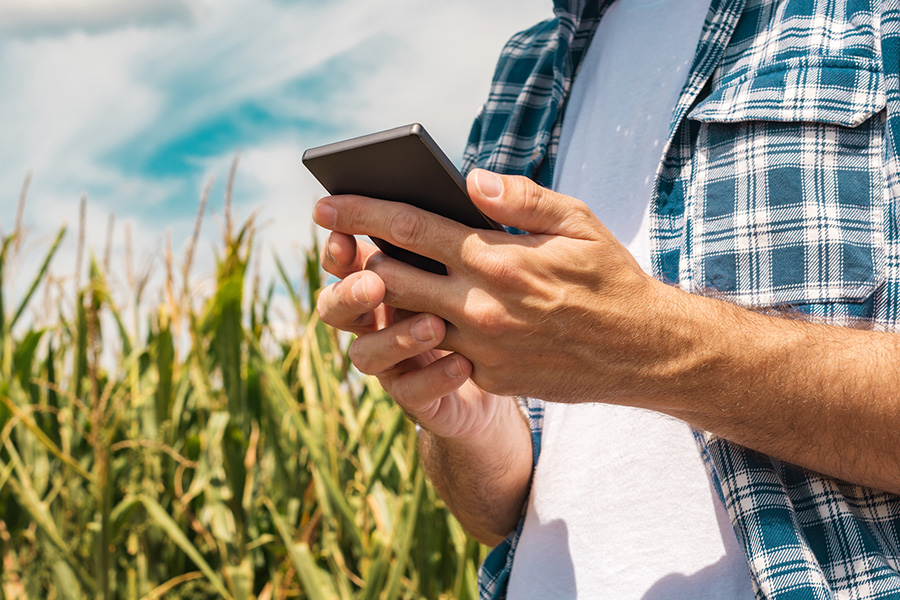 ---
James Pieper grew up in a suburb of Fargo, but his heart was on a farm in south-central Minnesota.
---
That farm belonged to his grandparents and his great-grandparents before them. It's where his grandfather spent his days working in the field and where his grandmother juggled fieldwork on top of her nursing career and raising three children.
---
While his hands itched to work with the soil as a child, Pieper didn't know if he could turn it into a career.
---
His grandparents retired when he was a middle schooler and rented out their land while still living on the farm. To fulfill his childhood dream of becoming a farmer himself, he'd have to start over, buy his own equipment, and teach himself the ropes.
---
But he learned by watching young, first-generation farmers on YouTube that it was possible to return to his roots, absorbing their lessons, successes, and failures.
---
Now, he's a 25-year-old skipped-generation farmer living on his grandparents' land with his wife. He's spent the last three years learning the ropes while juggling a full-time job in agricultural finance, even using vacation time to work on the farm.
---
As he puts it, he "eats, sleeps, and breathes farming." But he might not have made that leap of faith if it weren't for social media and the YouTube creators who inspired him.
---
He's passing that mission of education on through his own growing social media accounts on Instagram and TikTok. His Instagram account, "@allaboutfarming," has over 54,000 followers who watch as he highlights his life on the farm — following along with his experiments and everyday chores, asking and answering questions, and sharing encouragement alongside beautiful aerial shots of his fields with a drone.

---
Overall, he's building a community of people interested in and learning about agriculture.
---
"There are a lot of people like me who had land in the family, and then it gets rented out," Pieper said. "They'd love to step into farming but feel like it's out of reach. It really isn't if you know how to ask the right questions and take the risk."
---
Pieper estimates that about a quarter of his followers are farmers, another quarter is made up of farmhands, and the remaining 50 percent are non-farmers who follow him to learn about his experience.
---
Consumers are becoming more and more removed from agriculture, with many unaware of the process of turning a cow into a hamburger or turning corn into fuel. That gap will continue to grow, and it's important to educate the typical consumer. Social media is the best tool to do that, Pieper said.
---
"Voters and representatives make decisions. When you don't have the numbers in agriculture to represent yourself in the government, there's a ton of value in informing other people," Pieper said. "There's only going to be fewer farmers as time goes, so we need to educate others."
---
Pieper partners with POET to share information about agriculture and biofuel production with his followers. The company works with social media influencers like Pieper because it can be a more effective way to reach large numbers of consumers than through traditional advertising, said Autumn Bates, POET Vice President of Communications.
---
POET's social media goal is to build a community of like-minded people that the organization wouldn't otherwise be able to connect with. Social media can be a great place to share ideas and solve problems that could make the world a better place.
---
"We don't have consumer products on shelves, so we have to find other ways to reach people," Bates said. "Part of what POET wants to do is build awareness of not just the company, but what we're trying to accomplish: changing the world through biofuels and bioproducts made in harmony with the earth."
---
POET has a few audience groups the company tries to reach through social media marketing and partnerships: people who want to help the environment, people interested in agriculture, and women.
---
Women, particularly moms, are one of the key audiences POET appeals to on social media, Bates said, because they are typically interested in efforts that benefit their families and children.
---
That's exactly why Growth Energy is trying to reach moms in its latest social media campaign, said Elizabeth Funderburk, Vice President of Communications & Public Affairs for Growth Energy, the nation's leading biofuel trade association.
---
Growth Energy's latest campaign is The Green American Road Trip, which promotes the cost-effectiveness and environmental benefits of using biofuels. The campaign is centered on the East family — American Olympic gold medal gymnast Shawn Johnson, her husband, former NFL football long snapper Andrew East, and their two children.

---
Fans of the family vote on where they should travel this summer through The Green American Road Trip website, which also shares tips for more environmentally friendly driving. The East family then documents their journey on social media to their more than 5 million combined followers.
---
Partnering with relevant influencers, such as the East family or Pieper, is an effective strategy for entities like POET and Growth Energy because their followers take recommendations to heart, Funderburk said. The influencers and their followers share similar values and form a bond and sense of trust that isn't possible through a company account or traditional marketing.
---
"If you see yourself like Shawn Johnson, a mom of two small children, and you see she's getting on the road and taking a moment to think about ways to lower her carbon footprint and clean the air her family breathes," Funderburk said.
---
That partnership with influencers not only spreads awareness about the benefits of biofuels but also connects consumers at the pump and beyond.
---
"We need more consumers who have awareness and who are not only converting that awareness to action at the pump but also contribute to actions at the federal and state level that contribute to growing access to biofuel blends,"
Funderburk said.
---
Influencer partnerships and social media are also opportunities to listen to consumers and understand what is important to them, Bates said. It allows POET to better shape its messaging to spread its mission to others.
---
And while social media can seem like an infinite void of content, Bates recommends cutting through the noise by focusing on a personal mission at hand.
---
"POET's founder, Jeff Broin, knew exactly what our mission was when he built this company long before the age of social media, and so we take those lessons and say, 'This is who we are,'" Bates said. "We can use that message to hone our communications strategy — and that includes social media."
---
Pieper said he only partners with companies that share his mission or values or produce a product he uses and believes in.
---
He added that it's manageable for anyone to use social media for a similar educational mission. Pieper can gather enough content for a week of posting in one day, he said.
---
"I spend more time thinking about it than actually putting stuff together," Pieper said.
---
And authenticity reigns supreme on social media. Simply following, engaging with, and sharing information from publications like Vital makes a difference by reaching and educating more people across the country, Bates said.
---
Pieper encourages farmers to look at social media as an opportunity and to experiment with using it, adding that "you don't need a bunch of followers to see the value of it."
---
"It's not going away," Pieper said. "It's a way to get your voice out there without getting totally filtered by someone else and hear from others without them getting filtered either."
---