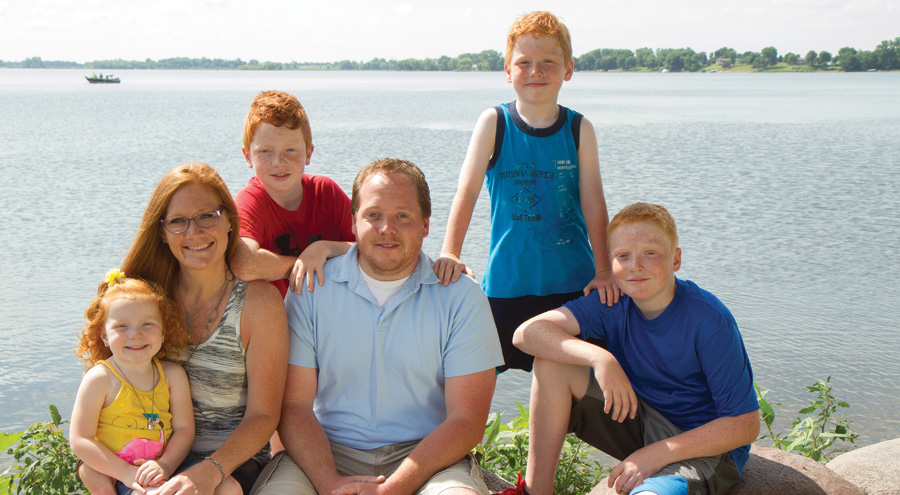 ---
It started in September with a single photo pinned to a then-empty 3-foot-by-4-foot bulletin board.
---
Today, dozens of "You Mean The World To Someone" boards –prominently posted in all ofPOET's 28 plants and variousoffices – display hundredsof pictures from POET teammembers.
---
And more are being added every day.
---
A 5-by-7 here, an 8-by-10 there.
---
Shift Supervisor Chuck Hauxwell's grandsons are standing in front of a "Thomas the Train" exhibit.
---
Accountant Rachael Johnson is ziplining with her family.
---
Commodity Supervisor Keith Baur's son and daughter proudly hold their newly-earned academicletters.
---
The photos are part of POET's new "Work to Live" safety campaign, and they represent, to those employees, the people who rely on them. The people who care about them. The people who want them to come home safe.
---
Environmental Health & Safety Specialist Arlene Thomas and her family are playing a board game.
---
Quality Manager Emily Boynton's boys are kicking a soccer ball.
---
Grain Buyer Ed Opperman is smiling, standing with his sons and their spouses in one of the last family photos that includes Ed's late wife Sandy, who died of colon cancer in 2012. The caption reads: "Family is being together, celebrating often, creating happiness, loving without limits."
---
Unlike previous campaigns, "Work to Live" challenges employees to make safety choices through the eyes of the people who care about them.

---
"We have a great safety track record," says Jeff Lautt, POET's President and COO. "The statistics we get tell us we're top of the class. But the reality is things happen. These plants are big, complicated machineries, and they are operated by people. Machines break, people make mistakes. We need to remember that, and to do what we can to stay safe."
---
For Lautt, the "Work to Live" safety campaign reinforces POET's family-first culture. "This reminds us that we're a family, and we all need to look out for ourselves and for each other," he says.
---
POET has long prided itself as a company where safety comes first. Safety is the first topic at every shift change at every plant. A safety message – "I just want you to come home safe" – is the first thing many employees see when they fire up their computer every day. It's the first thing Rod Pierson, POET's Vice President of Operations, worries about when he answers one of those dreaded after-hours phone calls.
---
"Anytime I get a call from work in the middle of the night, my first question is: 'Is anyone hurt?'" says Pierson. "We can solve any plant problem. We can get production going later. But if someone in the POET family is injured … well, there's no worse feeling than hearing that. All it takes is one mistake, and that mistake affects all of those people who care about you."
---
Steve Pittman, General Manager at POET Biorefining – North Manchester, IN understands firsthand how a single safety lapse can change your world forever.
---
In 2007, while at a football game with his wife Vicki, Steve got a call from a hospital in Montana. His son, Steve Jr., had been seriously injured in a motorcycle accident.
---
"The surgeon described the situation to me," Steve says. "They told me my son had torn the frontal lobe of his brain. They told me he had a traumatic brain injury."
---
"Then the surgeon asked me if we wanted them to operate on him," Pittman says. "Or to make him comfortable and let him die."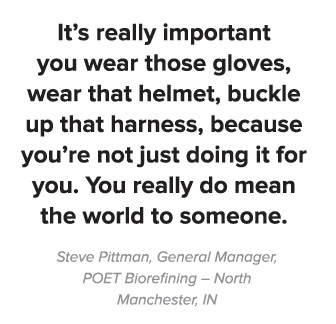 ---
Steve and Vicki opted for the operation. They flew immediately to Montana and spent the next 17 days in the ICU praying for the survival of their 28-year-old son, fresh from stints in Iraq with the Air Guard, who now lay helpless in a hospital bed.
---
Steve Jr. woke up on day 18. Eight years later, while he is paralyzed on his left side, he has gone, according to Pittman, from "being bedridden to being able to play golf one-handed."
---
"He has a good life and now lives with us," says Pittman. "He has a son. He's an amazing person, but he chose not to wear a helmet when he was jumping ramps on a dirt bike. So this safety campaign is personal for me, because our team is like a family, and I know how devastating it can be when a family member gets hurt. Making it about people has made this the most powerful safety program I've ever been around. "
---
The "Work to Live" safety campaign represents the natural progression of a concept Jeff Lautt has been publicly stressing at POET for the last few years – "love and care."
---
"We have told all of our team members that within the workplace it's okay for us to love and care for people," says Lautt. "Society has tried to make it taboo to use the word love in the workplace, but love is nothing more than genuinely caring for people. I have a deep sense of care for our team members. I pray for them and their families. If we have a situation where a team member gets hurt, it hurts all of us."
---
Mike Dishman, POET's Regional Vice President of POET Plant Management, has a job history that includes five years at General Electric and, before that, 20 years with the Navy submarine force.
---
If Dishman had heard the "love and care" message at one of his previous jobs, he says, he's not sure it would have resonated.
---
Yet after just 18 months at POET, Dishman sees how the concept fits the culture. "POET is clearly a family-based company, and everybody feels like family when they are here," he says.
---
"If this was a different company, people may not buy into it. But here, it works. It works because this is a company where the words 'love' and 'care' make perfect sense, and this is a company where a safety program like this really resonates with its workers."
---
By focusing on the people of POET, "Work to Live" has helped shift the safety discussion from stressing the punitive to stressing the positive.
---
During his nine years at POET, Joel Bordewyk, Plant Manager at POET Biorefining in Bingham Lake, says he's never heard more positives or even as much discussion about a safety campaign.
---
"This is what safety should be all about," Bordewyk says. "It shouldn't be about just the rules, it should be about looking out for each other and reminding yourself that it's not just about you, it's about the people who care for you as well. Just getting people talking about safety is a good thing."
---
The response to the "You Mean The World To Someone" boards and the fact that team members are taking a fresh look at safety –a subject that has often beenpolicy-laden and mundane hasnot been lost on Lautt.
---
"We know that the 'love and care' message fits the POET culture, and we plan to incorporate that into everything we can," Lautt says. "When we were looking at our corporate code of conduct book, the team members said it felt too legalistic and impersonal, so we wanted to take a more personal approach with that also. We want to incorporate the 'love and care' into that. If we believe in our people, and we do, we should have fewer company policies, so we cut our employee handbook in half. We need to make our people, not our policies, the focus of everything we do."
---
And you can literally see that concept on display in the hundreds of photos on the dozens of "You Mean The World to Someone" bulletin boards across POET.
---
Steve Pittman's photo, posted on North Manchester's board, shows his entire family – his wife Vicki, daughter Emily and her husband and their kids, and his son Steve Jr. and his son.
---
"I look at that picture every day at work," Pittman says, "and I think about how we almost lost a son. Then I see the other team member pictures on that board and it reminds me how important our family – including our POET family – is to all of us."
---
For Pittman, "Work to Live" is a meaningful reminder that safety is about much more than that higher productivity, increased profit margins and lower absenteeism rates.
---
It's about more, even, than the individual team members.
---
"It's really important you wear those gloves, wear that helmet, buckle up that harness," he says, "Because you're not just doing it for you. You really do mean the world to someone. If you don't think one little mistake can change everything for everyone who cares about you, just take a look at my family photo on that board. Think about those 17 days we spent, hopeless, in that ICU. And try to remember how important your safety is to those who care about you."
---