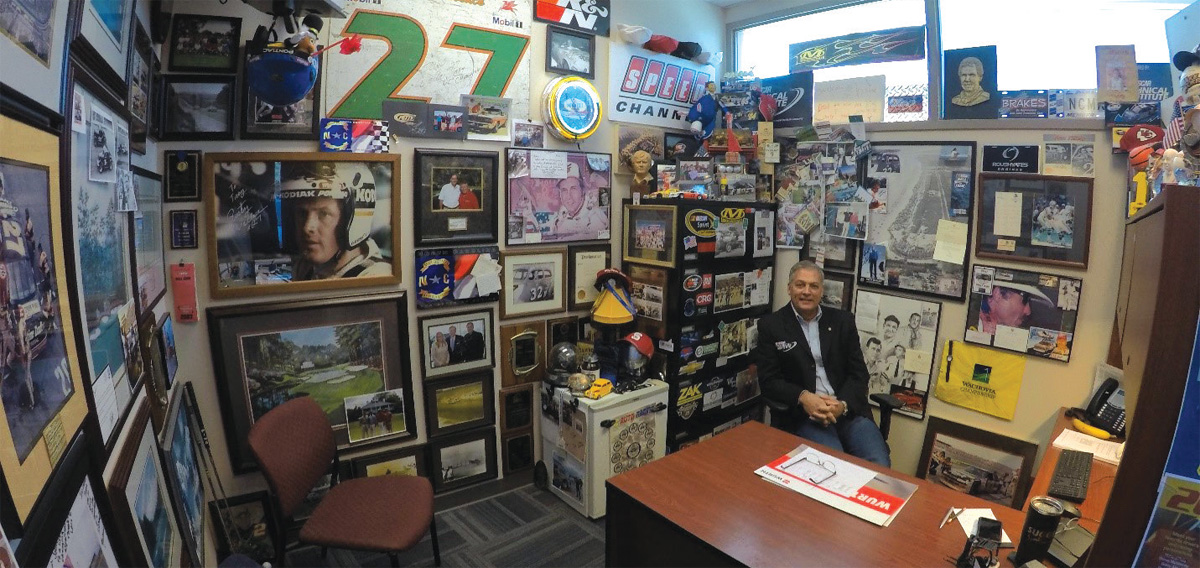 ---
John Dodson's office is probably only 10 by 12 feet, but the auto racing memorabilia, including trophies and keepsakes, that line his walls could fill a museum.
---
Dodson is the Vice President of Alliances and NASCAR with the Universal Technical Institute (UTI) and NASCAR Technical Institute. I was on the Mooresville, N.C., campus — which is called the NASCAR Technical Institute (NTI) — with a group from Growth Energy, POET and ECR Engines, the premier engine builder in NASCAR and other series of automotive racing. We were there to tour the campus and learn more about American Ethanol's new partnership.
---
In 2018 American Ethanol forged a strategic partnership with the Universal Technical Institute (UTI), a network of 13 technical school campuses that train the future automotive technicians and mechanics of America. The partnership is starting with the Mooresville campus. We also picked North Carolina, as it is an E15 market. Like American Ethanol, the NASCAR Technical Institute is an Official NASCAR Partner, and that is how we came together. With the success of this program we plan to roll out the program to the other 12 campuses soon.
---
"See those gloves over there? Those were Tim Richmond's. That's my daddy's trophy from Bowman Gray, and that's me in the white sleeves as a rear tire changer for Rusty Wallace during our championship season," he eagerly told us as we scanned the room. I could have spent all day in that room, but we had a full schedule in front of us.
---
John gave us a 35-minute tour of the facilities, from state-ofthe- art engine building labs to the career placement center. His knowledge of the students and passion for education also revealed his thoughts on what matters the most: shaping the future.
---
What I noticed was a lot of action in the classrooms and not a lot of sitting. I spent most of my traditional learning parked in a desk staring at a book. You could see they were solving real-time problems as a future technician would do on a real engine.
---
As we walked through the commons, John stopped and said, "I had a mother of one of the students come to me and say, 'I don't get it. My son is not a strong student. He struggled through high school and college didn't take, but he came here and he's getting straight A's.' I said, 'Hey, people learn in different ways. He probably learns with his hands like me.'"
---
The area we were most interested in was the new American Ethanol Resource Center — a high-tech place that somewhat resembles a traditional library.

---
As we were finishing up the tour by the E-3 Spark Plug lounge, I asked John about the make-up of the student body. He said more than 5 percent were female, which is great because currently females constitute less than 2 percent of auto technicians and mechanics in the workforce. Like the ethanol industry, they are comprised of a large percentage of veterans as students.
---
We finished the tour in an auditorium where our good friend Dr. Andy from ECR Engines was going to teach students about fuel and engine performance, including, most importantly, the benefits of using ethanol. We reached more than 320 students and 40 instructors through our workshop. It was impressive, as these were highly motivated and engaging students; they emulated John's passion of why they were there. The students were accustomed to learning about the performance of each of the components of the engine. The fuel, and especially ethanol, was a new and exciting frontier.
---
This three-year pilot program allows us to open a dialogue about ethanol and engine performance. It also allowed us the opportunity to educate students and instructors alike, so that graduates understand the benefits of biofuels before they enter their field. This partnership gives us a direct line to future auto technicians and mechanics. I got some good advice once, and I think this partnership displays it: "Plan ahead; it wasn't raining when Noah built the ark."
---