---
Windows dangle from broken hinges at a small medical outpost in rural Africa. Rain leaks into the building from holes in the steel sheeted roof, muddying the dirt floor littered with livestock droppings.
---
But this building is far from neglected or abandoned.
---
In fact, it's necessary — it's the rural Bambara community medical outpost in The Republic of Gambia (The Gambia), which is the only healthcare access point for the local village of nearly 1,000 residents, in addition to four surrounding villages.
---
Women crowd inside for a monthly reproductive and child health clinic, shuffling together to form lines and standing for hours to receive medical care. The packed space turns the scorching summer heat into a sauna. The medical center doesn't have a latrine or a station to wash hands.
---
This summer Ashna Patel, an undergraduate student at the University of Pennsylvania, stood with the women and helped care for them as a student intern.
---
She learned the women's stories and how they would trek miles with children on their backs to access medical care at the dilapidated outpost since the closest hospital was 17 miles away.
---
The 18-year-old knew she had to do something.
---
"It's a basic human right to have a place where you can take your baby or yourself to get the care you deserve," said Patel, who is studying business and computational biology. She and another intern, Isabella Santiago Lindsay, were determined to help.
---
Leaders at the Bwiam General Hospital — which operates eight rural Gambian outposts, including the one in the Bambara community — were committed to upgrading clinics Patel visited, telling her and her fellow interns about
planned renovations.
---
Patel saw that outside funding was needed to expedite and achieve such an effort, and she helped coordinate fundraising efforts with other interns, reaching out to several organizations back home in the U.S.
---
But she isn't an outreach coordinator — she's a student. The calls for donations she made to organizations around her hometown of Pittsburgh weren't returned. She didn't know how to raise the money needed for such an effort.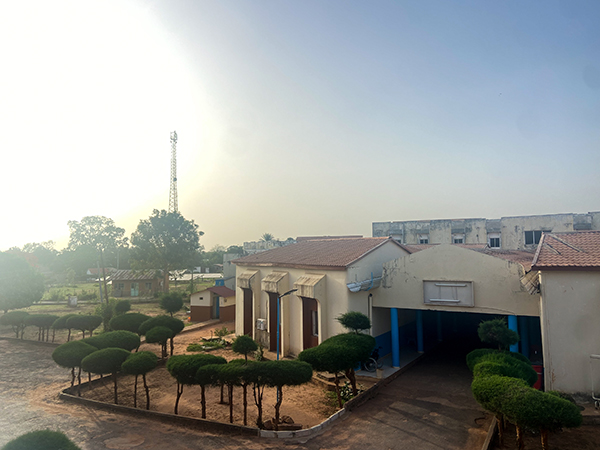 ---
So, she turned to POET. The 2021 POET Never Satisfied Scholar contacted Miranda Broin, Director of External Communications for POET. Broin, who helps manage the scholarship program, had encouraged scholars like Patel to keep in contact with POET after their experience in the program, wanting to be a resource for them as they ventured further down their chosen educational and career paths.
---
Patel wasn't asking for a donation to the project, though. She simply asked Broin, who also serves as Vice President of the Board for Seeds of Change (the international nonprofit founded by Jeff and Tammie Broin), for advice on how to fundraise, which led Broin to connect her with Macy Kaiser, Executive Director for
Seeds of Change.
---
Kaiser noted that the project was a perfect fit for the nonprofit, which distributes millions of dollars to cultivate sustainable change and address poverty through agriculture, education, and environmental and human health initiatives.
---
The cost of the project was only $4,450 — minimal compared to some of the higher-dollar projects Seeds of Change typically funds. But to the village, the renovation is priceless.
---
"This was something manageable where we could make a huge impact for a small community and hospital," Kaiser said. "To the board, it was a no-brainer."
---
Patel, who was still in the Gambia at the time of the news, rushed to the hospital chief's residence after hearing about the Seeds of Change donation, bursting
with excitement.
---
The donation has been used to tile the dirt floor of the medical outpost, provide a cardboard ceiling barrier for leaks, replace the damaged roof with new sheets of corrugated steel, repair broken windows, establish a reliable water supply, purchase chairs, and — perhaps most importantly — install a hand wash basin and the village's first latrine.
---
The space can be used not just for healthcare but also by the local school as a cafeteria or as a community meeting space — anything to encourage community empowerment
and mobilization.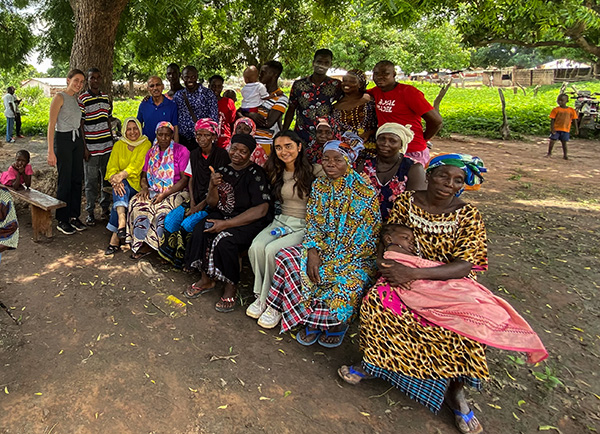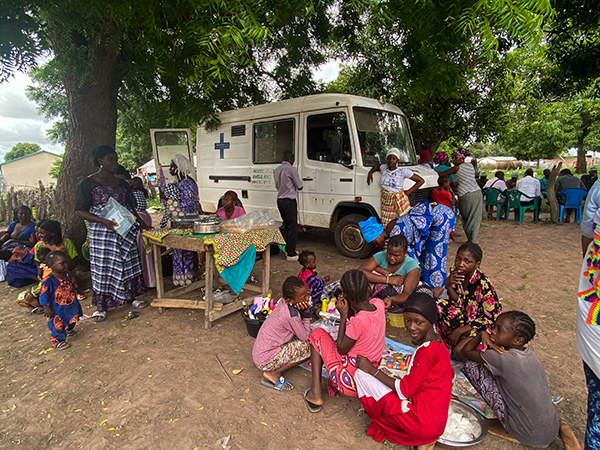 ---
"This is one of the biggest development projects the community has seen in a decade," Patel said, adding that the rural community is about 15 miles from a main road, and only about three vehicles drive in and out of the village a day. "It's no small feat."
---
But this endeavor to provide life-changing — and, in many cases, life-saving — health resources to communities that have previously lacked access is not new to Seeds of Change or the Broins, whose personal donations helped to construct two clinics in the Central African Republic and Uganda long before the nonprofit was founded.
---
Today, Seeds of Change's human health and environmental initiative, aptly named Mission Thrive, has had a widespread impact on improving livelihoods. Thanks to Seeds of Change, hundreds of thousands of individuals in Nigeria, Madagascar, South Sudan, El Salvador, and now Gambia have unprecedented access to clinics and community-based wellness programs.
---
"In certain areas, we utilize a model that's proven extremely effective in bringing healthcare to rural communities," explained Broin. "Village health workers come to the clinics from their remote villages to receive basic medical training — everything from handwashing to malaria prevention to maternal and infant care — and bring that knowledge back to serve their communities. It's truly empowering individuals by equipping them with the power to save lives, whether or not they live near a brick-and-mortar clinic."
---
Through Mission Thrive, Seeds of Change has also long invested in promoting the adoption of clean, biofuel-powered cookstoves to combat indoor air pollution, a significant threat to human health and the environment. And most recently, the organization ventured into a primary water project in southern Madagascar, where 1.2 million people are experiencing the effects of the country's worst drought in 40 years. Over 500 potential sites have been surveyed, and three 160-foot-deep wells have already been drilled since August to provide clean water for 12,000 people. Two more are currently being drilled in Nigeria.
---
"It brings a smile to my face to see the impact this organization has on people who are truly in need of these resources," Kaiser said. "Giving ten to twenty dollars pretty much helps teach several people medical basics to impact their villages, or provides a farmer with new techniques to feed their family, or feeds a few students for a whole year. It's incredible how far a dollar can go with
these programs."
---
And the results are a drastic contrast to what the Broin family witnessed on their inaugural trip to Kenya in 2012, which spurred the launch of Seeds of Change.
---
"It is truly changing lives to have projects like this in rural areas, and it'll hopefully save a lot of lives as well," Broin said. "This is one example among many that prove how, when we work together toward a common goal and when we empower people and communities to create their own success, we can spur lasting — and hopefully
generational — change."
---
It's important to note that one hundred percent of donations to Seeds of Change go toward actual projects like Patel's since POET covers the staffing needs of the organization.
---
And while it's one of the smaller projects Seeds of Change has funded in its 10 years, it's especially meaningful to the organization because of POET's prior connection
with Patel.
---
"Ashna is a brilliant young woman with great aspirations," Broin said. "This has been a unique full-circle project since she originally came to us through the POET scholarship program. She proved then that she was on her way toward changing the world, and now we're able to further support her endeavors through Seeds of Change."
---
It calls back to the nonprofit's mission to cultivate sustainable change. It's not just to impact developing countries but to influence people of all ages in the U.S. to become catalysts of change as well.
---
Patel plans to continue fundraising efforts for the Bwiam General Hospital while studying at the University of Pennsylvania. The group hopes to build residences for medical professionals next to each outpost in the region. Many health workers stationed at the outposts can only find housing miles away, which robs them of the ability to respond to emergencies or basic healthcare needs.
---
Knowing the impact she's already made working with the Bambara community, POET is fueling Patel's drive to do more. She has a vision to work with other countries to create sustainable programs in the future.
---
"I want to be part of creating those communication channels," Patel said, "connecting donors like POET to work being done on the ground and creating clear blueprints on how to help."
---
It drives Broin, too, knowing that any 18-year-old can dream of changing the world and realize it's possible to do so by making an effort and finding the right connections.
---
"I remember being around her age, going to Kenya, and coming home wanting to do more," Broin said. "I was lucky to have the resources to channel that passion. Now to see Ashna take initiative and accomplish so much already, I'm excited to see what she and our other scholars can do going forward. It gives me hope to see the mentality of our youth and what they're trying to do to make the world better."
---