---
In late June, the U.S. Environmental Protection Agency (EPA) released proposed amounts of renewable fuel to be blended into the nation's fuel supply in 2019. While biofuels industry leaders, including POET, expressed optimism for the 15 billion gallons for starch ethanol, they conveyed concerns that the proposal doesn't address reallocation of small refinery exemptions.
---
At face value, the 2019 proposed obligations appear to align with the statutory mandates. However, look more closely and the proposed rule may not necessarily be what the renewable fuels industry receives if the rule becomes final due to small refinery exemptions. The Renewable Fuel Standard (RFS) statute provides the EPA authority to exempt small refineries based on economic hardships from compliance with the RFS mandate.
---
The chart below shows an "effective RVO" based on an assumption about the level of small refinery exemptions (SREs) that the EPA will award if the agency continues its present policy of not reallocating SREs. By not accounting for an estimate of gallons attributed to SREs, the EPA is leaving the option to reduce the mandate and continue to take advantage of SREs.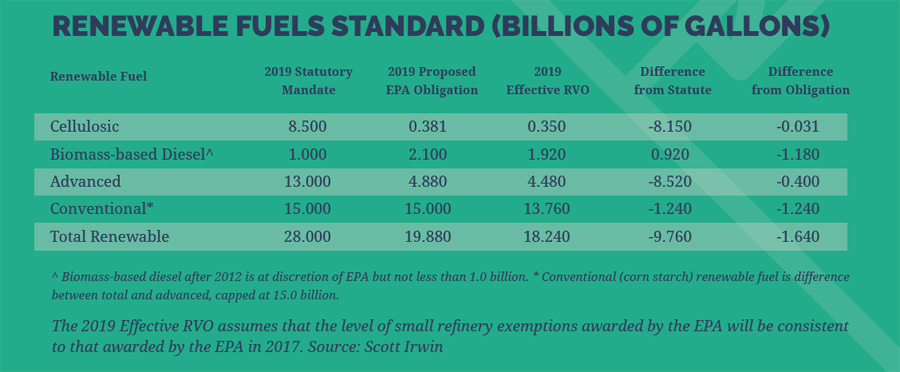 ---
"Proposed biofuel volumes are meaningless when the EPA continues to hand out hardship waivers to the largest and most profitable companies in the world," said Kyle Gilley, Senior Vice President of External Affairs & Communications, POET. "The EPA and the Trump Administration must stand up for farmers, immediately reallocate those lost gallons and cease bailouts to the oil industry. We are disturbed by reports that a reallocation plan was dropped due to pressure from oil interests. Refiners must be held accountable, and E15 must be available to consumers year-round. Only then will these numbers have any meaning."
---