---
Never underestimate the difference one person can make.
---
Now multiply that by 18.
---
The effect a group can have? It's immeasurable.
---
And that's exactly what was so powerful about the 2023 Seeds of Change immersion trip to Uganda – the organization's first since 2019.
---
"It's an experience that you will never forget," said Lauren Colvin, Seeds of Change Director of Development. "It tugs at your heart and changes you in a positive way – you just view things a lot differently."
---
But more importantly, it serves as an important instrument to create a lasting impact, which is precisely what Jeff Broin envisioned more than ten years ago.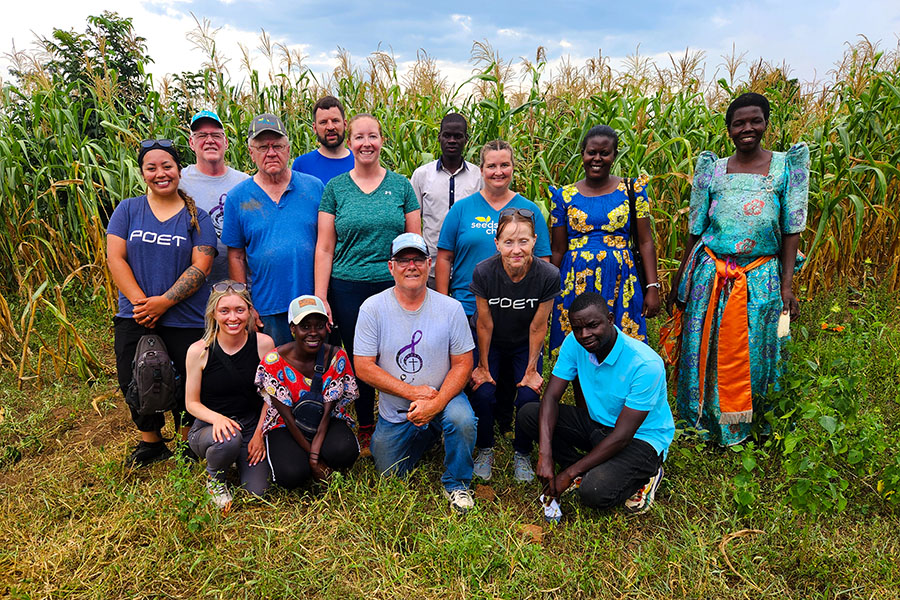 ---
An Idea Takes Growth
---
In 2012, Jeff Broin, founder and CEO of POET, and his family traveled to Kenya for a service trip. While assisting in a remodel for Kakuswi School for the Deaf in the village of Tawa, Broin couldn't help but notice the condition of the crops on the small family farms that dotted the rural area they were visiting.
---
After returning home, Broin couldn't stop thinking about it. A few simple changes to their farming techniques could yield big results. But how could they support these farmers half a world away?
---
Realizing the impact they could have, Broin and his wife, Tammie, founded Seeds of Change, a nonprofit organization, which operates out of POET's corporate office. Seeds of Change strives to transform lives through the power of education and the miracle of agriculture.
---
Since then, the organization has impacted millions of lives through its three-key areas of focus: Mission Hope, Mission Grow, and Mission Thrive.
---
Each program has a slightly different approaches: Mission Hope supports youth and educational initiatives, Mission Grow is centered on agriculture and food security, and Mission Thrive focuses on human health and the environment. Overall, each is grounded in the transformative power of education.
---
"We work to create an environment for the empowerment and encouragement of poverty-stricken people to cultivate their own paths to success," said Macy Kaiser, Seeds of Change Executive Director.
---
Since 2013, Seeds of Change has sent a volunteer group of POET team and family members on an annual immersion trip to Kenya. Each group has focused on building relationships with and working alongside locals, often working hands-on to complete a variety of capital projects. The trips serve as a rare opportunity to get a firsthand look at what Seeds of Change is doing to implement sustainable, practical solutions that transform livelihoods.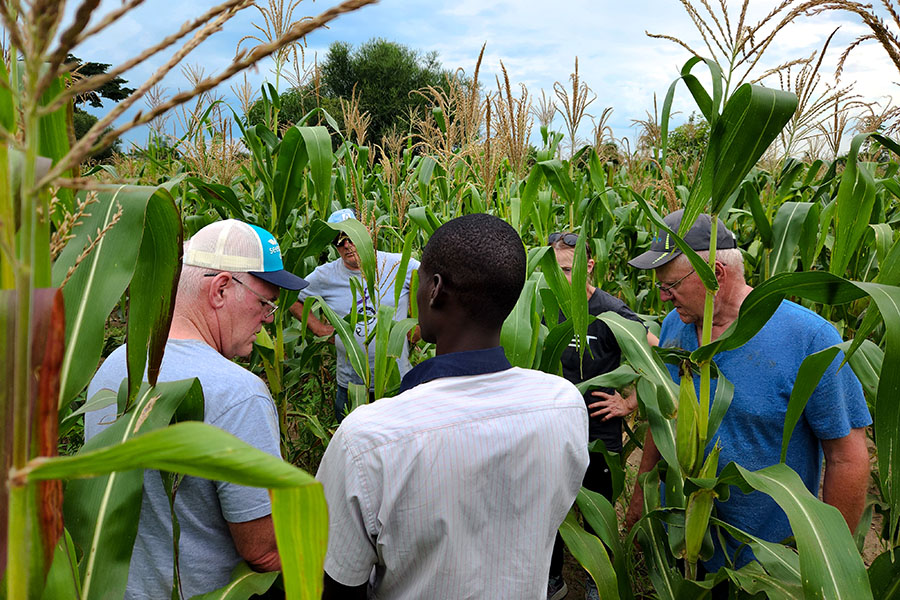 ---
But, like most international travel, the trips came to a standstill in 2020.
---
Of course, that's not to say the work stopped. During that time, Seeds of Change worked with its boots-on-the-ground partners in Africa to complete, among other projects, the construction of two primary schools in Uganda and one vocational school at Kakuswi. Mission Hope also sponsored more than 1,800 students in Kenya and Uganda last year and launched a feeding program to support more than 52,000 students across 166 schools in one of Kenya's most impoverished areas.
---
Additionally, Mission Grow has expanded to impact over 4 million individuals across Africa by working alongside farmers to make simple changes to their operations, often increasing yields tenfold in one growing season. Many who were unable to produce enough to feed their families are now able to turn a profit, enabling them to reinvest in their farms and pay their children's school fees. This wasn't possible prior to 2014.
---
Mission Thrive has also impacted hundreds of thousands of lives across six countries through medical clinics and village healthcare projects, and the initiative has recently invested in clean water wells that will benefit tens of thousands of individuals suffering from the effects of drought. The project has also helped distribute thousands of clean-burning bioethanol cookstoves to help reduce the widespread harmful impacts of cooking with hard fuels.
---
Creating Sustainable Change
---
Even for the most passionate Seeds of Change supporters, nothing compares to the opportunity to contribute to the mission in person and see the projects firsthand. This year, that experience could finally resume, and 14 POET team members, in addition to four of their family members, traveled to Uganda for the first post-COVID immersion trip.
---
"A lot of the projects we do tend to focus on one area or another, but our work in Uganda really encompasses all three of the core programs we support," Kaiser said. "This year, we were on the farms working with the farmers. It was harvest season, so we got to help with that. We were in the schools working with the kids. We were in the medical clinics and going on house visits with families. We really go to touch on so many aspects of the community."
---
Days started early – around 7 in the morning – and they didn't end until around 9 or 10 at night — exhausting and exhilarating all
at once.
---
"During the trip, we learned about all the things Seeds of Change has done for the community and learned about the different ways it's growing and prospering, from the hair salon and bakery that are providing jobs to the clinic that provides 24-hour healthcare services," said POET team member Nichole Holbrook. "We visited local farms. One group went to a banana plantation, another group went to a peanut farm. It was incredible to see all of the amazing things Seeds of Change has done. The farmers showed us their traditional Ugandan crops compared to the Mission Grow crops, and the difference was astonishing!"
---
According to Andrew DeVaney, Founder and CEO of AsOne Ministries, another Sioux Falls-based organization that partners with Seeds of Change on a number of projects and in hosting this year's trip, the work done during immersion trips is transformative to the people served. For example, over the course of 10 days, the group worked with dozens of farmers and touched the lives of hundreds of community members.
---
But it's not really about the numbers.
---
"We measure the impact of the trips more qualitatively than quantitatively," DeVaney said. "The people of Uganda have such deep, deep gratitude for the people who want to come and travel halfway across the world to places they've never heard of. It's the relationships that are developed that have the biggest impact."
---
And that impact works both ways. When a POET team member has the opportunity to work side-by-side with a smallholder Ugandan farmer, play soccer with kids at a local school, or have a simple conversation with a local, bonds are formed. Many realize that, despite coming from vastly different backgrounds and cultures, we're all much more alike than we might expect.
---
"The connections that are made are lifelong," said DeVaney.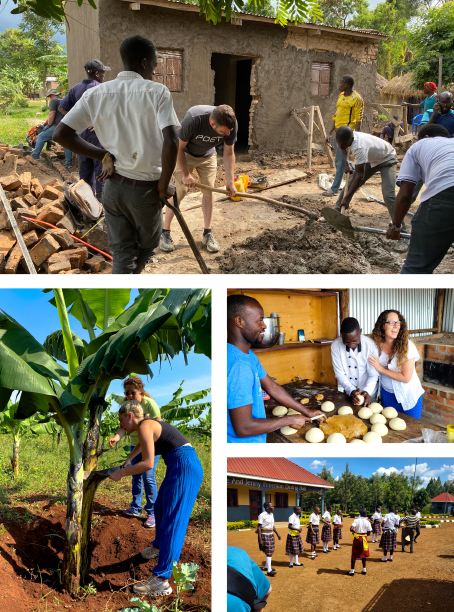 ---
Continuing the Mission
---
Supporting the mission of Seeds of Change is an extension of POET's commitment to innovating powerful, practical solutions to some of the world's most pressing challenges.
---
To that end, the company encourages participation in the trip by providing a stipend toward travel expenses and an extra two paid days off for each POET team member – but it's certainly not an all-expense-paid vacation. Participants work in groups and individually to fundraise in the months leading up to each trip. Still, interest in Seeds of Change comes from all departments and locations.
---
"We all have different backgrounds and come from different departments. A lot of us wouldn't have met otherwise," Colvin said. "So, this trip brings a lot of personalities and people together, which is really neat. Experiencing something like this together bonds you for life."
---
But even better than the connections with their colleagues is the connections made with the people they meet in Africa. "A lot of the participants who have been on previous trips still stay in contact with a lot of those people that they helped to affect their lives," Kaiser said.
---
All because one person – or in this case, 18 people – decided to step outside their comfort zones to experience something greater than themselves.
---
"This trip, and Seeds of Change, is all about making sustainable change and making an impact on future generations," Colvin said. "I've never experienced anything like this before. It's such a great opportunity to do something that's going to have a long-lasting effect on everyone involved."o affect their lives," Kaiser said.
---
All because one person — or in this case, 18 people — decided to step outside their comfort zones to experience something greater than themselves.
---
"This trip, and Seeds of Change, is all about making sustainable change and making an impact on future generations," Colvin said. "I've never experienced anything like this before. It's such a great opportunity to do something that's going to have a long-lasting effect on everyone involved."
---