---
Aaron Rollins could be a spokesperson for POET's management recruitment campaign, promoting talent through the ranks.
---
Now Plant Manager at POET Bioprocessing – Marion (Ohio), Aaron got his start at POET Bioprocessing – North Manchester (Indiana) 15 years ago as a plant technician. He was promoted to shift supervisor, then moved to Leipsic for five years, where he was operations supervisor and then operations manager. For the past five years, Rollins has served in his current role at POET – Marion. Along the way, he raised four kids and earned a college degree with the help of POET's tuition reimbursement program.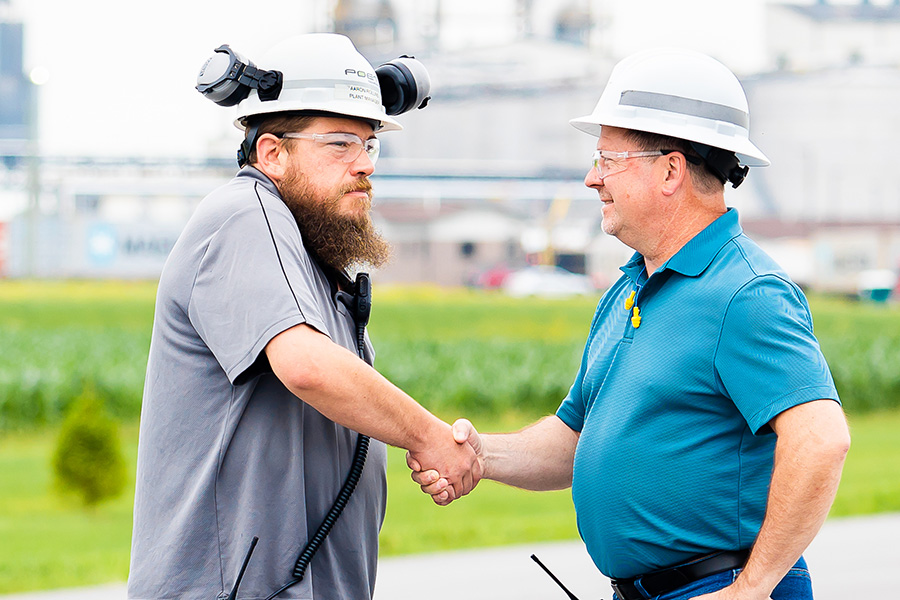 ---
"I don't view my work at POET as something difficult. I really enjoy what we do," Rollins said. "I get excited about coming to work and solving problems. School wasn't hard for me to do because I was focused on where I wanted to take my career, and I knew that the thing that would hold me back was not having a degree. So I went after it."
---
Rollins started working for POET in 2008 when construction on the North Manchester facility was nearing completion. He was in his late 20s, soon to be married, and needed a job with better stability and benefits. "I heard the general manager of the facility on the radio talking about hiring for a new state-of-the-art facility. Being interested in electronics, I thought it sounded intriguing. I applied and became a plant technician, getting involved in the commissioning activities."
---
"It was pretty eye-opening," he said. "None of us, other than the general manager, had ever worked in a bioethanol plant. There were 40 of us who had no idea what we were getting into. There was a lot of great training. The startup process POET put together was phenomenal."
---
Plant technicians like Rollins started out working as a team in shifts, keeping the process running 24 hours a day, seven days a week. Duties included setting new fermentations, sampling, monitoring the computerized control systems, making small adjustments to optimize the process, and housekeeping, among other things.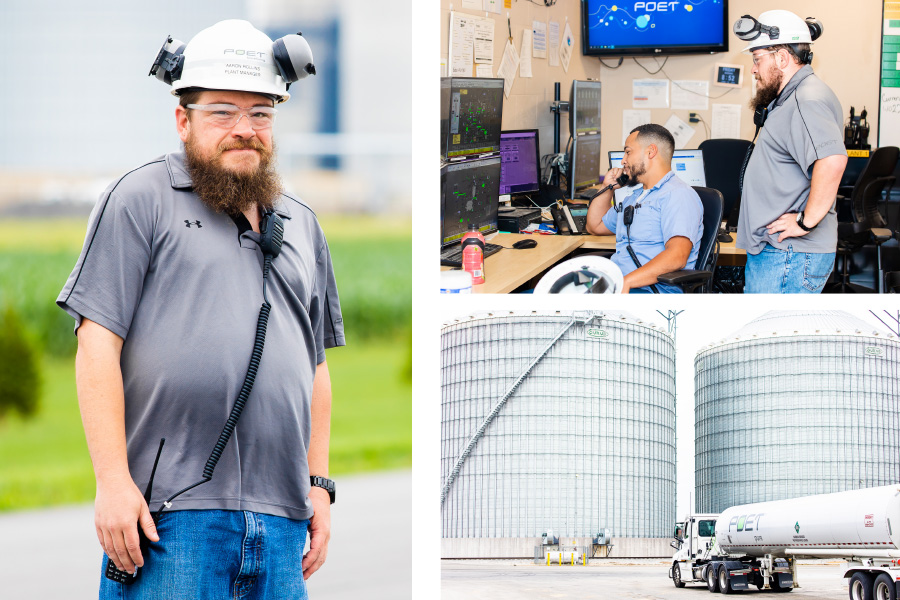 ---
Before long, Rollins moved up to shift supervisor, leading his team of plant technicians. It was then that the general manager asked him if he had ever considered going to college. "I kind of scoffed. But he said if you just take a couple of classes every semester, it may take seven years, but you'll have a degree. At the time, I was 29. He said, 'Would you rather be 36 years old with a degree or without?' For some reason, that stuck with me. I ended up graduating when I was 36."
---
Rollins got his associate's degree in industrial engineering technology at Purdue University Fort Wayne. When he moved to Leipsic, he switched to a business program with Purdue Global Online to finish his bachelor's degree.
---
As operations manager at POET – Leipsic, Rollins oversaw the four shift supervisors, managing day-to-day operations with the goal of maintaining consistency — an important element in optimizing operations.
---
He moved to Marion in 2018 when the original 65-million-gallon-per-year plant was being more than doubled in size to 150 million gallons, which essentially meant commissioning a brand-new facility. "It's one of my favorite things to do, starting up new processes and new plants," Rollins said, adding that he's helped with other startups. Newly constructed systems need a lot of tweaking and troubleshooting as each part is tested individually for leaks and proper functioning until the whole is ready for startup. "That's the fun stuff. It gets me excited and keeps me coming to work."
---
Once the new systems in the expanded Marion facility were up and running, Rollins settled into his new role as plant manager. "Now I have an operations manager that works under me," he said. He also oversees the maintenance and engineering teams as well as the material handlers who load and unload trucks and trains to receive corn and ship products. In all, about 40 of the 60-plus employees at the Marion facility work on his team.
---
"Aaron's very well respected among his peers, as well as his team members," said Regis Sherry, General Manager at POET – Marion. "He's built a very strong team. The whole group is dedicated to getting things done. Yet, they have fun, which is nice."
---
"We do have fun," Rollins said. "We have a COBB team — a fun play on words that stands for corn, but also 'community outreach and buddy building.'" Everyone in the plant is invited to participate, and generally, 12 to 20 people attend the monthly potlucks, he said.
---
COBB is active in the Marion community of 36,000, with a big part of the outreach involving team and event sponsorships. Recently the COBB team supported downtown revitalization efforts by adopting a room for men in the homeless shelter being built and volunteering hours to do the drywall and painting.
---
COBB also plans fun events at the plant. "We had a National Gummy Bear Day where we brought in dirt pudding with gummy bears," Rollins said with a chuckle. "For Valentine's Day, all team members got a little box of chocolates. It's a way to show our appreciation."
---
Rollins appreciates not only his current team members but also those like him who are advancing. "My former operations manager is now a plant manager and a fellow plant technician from my time at North Manchester is now a commodities manager in Indiana. Seeing your team members promoted and seeing the development and growth is one of the most rewarding parts of my job in being a manager," he said.
---
"If somebody else on the team succeeds, we all succeed. We should all celebrate that success. And we certainly do that here at POET. That's one of the things I love about working here."
---