---
"To leave the world better than you found it, sometimes you have to pick up other people's trash." – Bill Nye
---
In the busyness of daily life, it is often easy to keep our heads down and stick to the status quo. Yet, when we look up at the world around us, we begin to notice how small actions can create extraordinary change, especially when a few determined individuals unite for a common purpose.
---
This is precisely how Iowa Project AWARE got its start and why POET team members are proud to lend a hand.
---
Iowa Project AWARE is a week-long river cleanup initiative that began over two decades ago. Each year a different stretch of water is selected, and volunteers help remove trash and improve the safety and beauty of the body of water.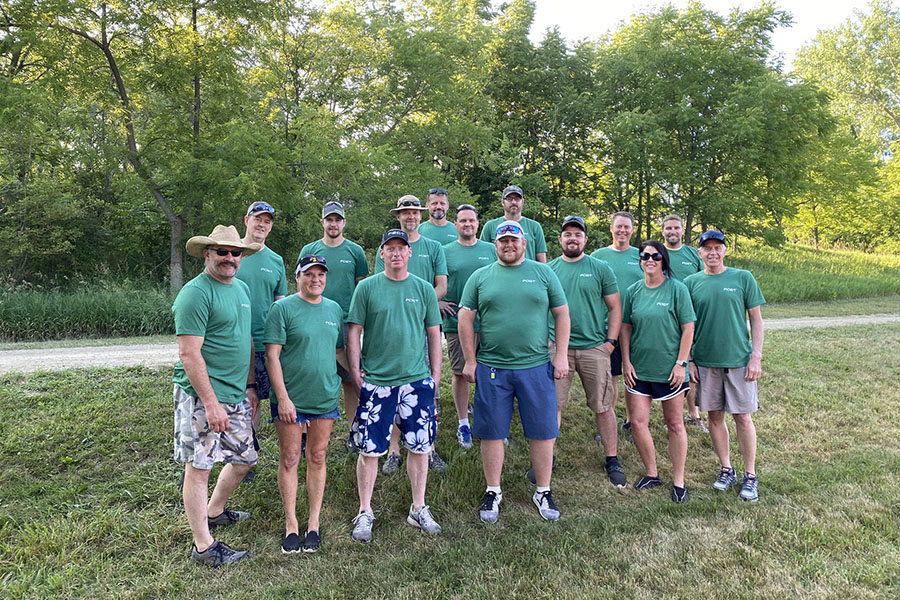 ---
"This was only POET's second year participating in Project AWARE, but the team came out in droves to give back. We were very excited to have generated enough interest to bring together enough POET team members to fill every available volunteer slot for an entire day," said Ryan Filloon, POET Regional Vice President. "It was a great day, and it's always encouraging to see our team members working together to make a difference."
---
This year, one day of the cleanup was a "POET day." The crew was comprised of 24 POET team members from five different bioprocessing facilities and POET headquarters in Sioux Falls.
---
"This year, we celebrated 20 years of beautifying Iowa waterways and spreading watershed awareness," said Nina Marquardt, project manager for Project AWARE. "We greatly appreciate POET supporting and encouraging so many of its employees to participate in this year's event. It was fantastic to have an entire day filled with their volunteers, and we look forward to POET joining us again on the river next year."
---
In total, over 315 volunteers of all ages — from four to 80 years old — came from Iowa, Colorado, Kansas, Minnesota, Missouri, Nebraska, Ohio, South Carolina, South Dakota, Washington, and Wisconsin. They worked together over six days to clean up 58 miles of the Iowa River, collecting 21,360 pounds (10.7 tons) of trash and recyclable materials.
---
"POET's mission is centered on being good stewards of the Earth and good neighbors to our communities," said Filloon. "It was inspiring to see so many people come together, roll up their sleeves, and work to restore the beauty of our river and preserve it for future generations. It was truly a testament to our collective commitment to environmental stewardship, and we're already looking forward to what we can do with Project AWARE in the years to come."
---
Iowa Project AWARE not only cleans the waterways of Iowa; it fosters a sense of camaraderie and stewardship that will endure for years to come and demonstrates how a group of dedicated individuals can make a lasting difference — even if it starts with simply picking up other people's trash.
---