---
On a Friday afternoon in April, POET's Government Affairs and Communications team learned that "someone from the White House" might be coming to POET Bioprocessing – Menlo.
---
Four days later, on April 12, President Joe Biden stood in the distillers grain loading area amidst bales and tractors to announce approval of one of the industry's top initiatives for 2022: an emergency waiver to allow summer use of E15.
---
In between those two points in time, team members across POET came together to make the event one to remember for POET, the biofuels industry, and America.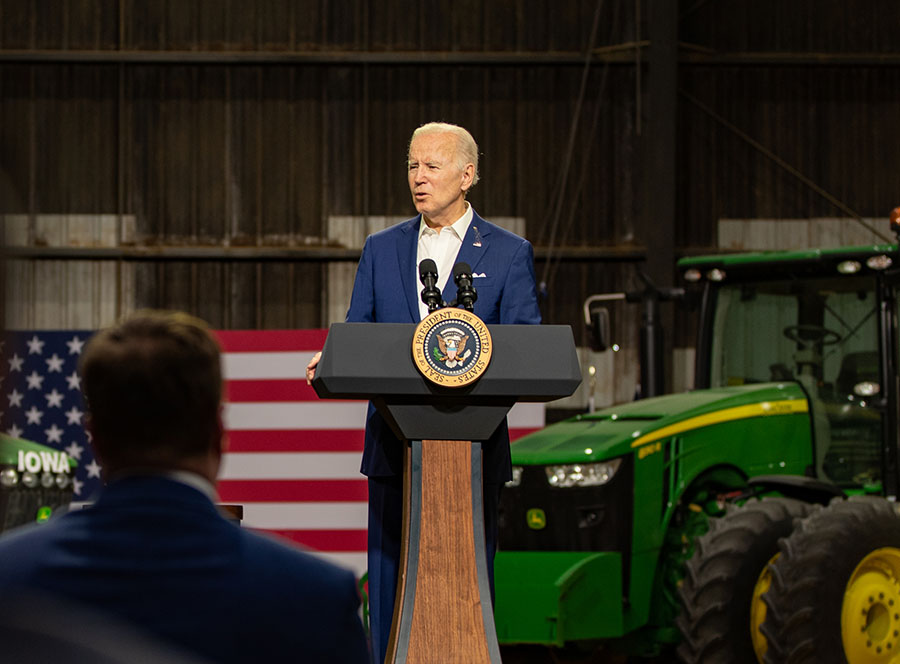 ---
Price spikes put biofuels at center stage
---
Removing the summertime ban on E15 has been an important initiative for POET and the rest of the biofuels industry for more than 12 years.
---
In 2019, the issue was seemingly fixed for good when President Donald Trump instructed the EPA to change the outdated Reid Vapor Pressure rules that had restricted E15 use in years prior. However, an oil industry lawsuit overturned that order in July 2021, and E15 sales would have once again been limited from June to September.
---
Then, in February of this year, Russia invaded Ukraine, setting off a sharp rise in oil prices that exacerbated the ongoing inflation facing Americans.
---
America needed relief, and biofuels were the answer. The industry had been campaigning hard to alert lawmakers to the need for E15 in this crisis. In a Senate committee hearing the week before Biden's visit to POET – Menlo, EPA Administrator Michael Regan indicated the Administration was moving toward an E15 solution.
---
"I do believe that E15 can provide a less expensive option based on the data we have seen as of late, and I also can say that we are evaluating what options we might have at EPA to look at utilizing E15 at a level that would be helpful to the American people and to help alleviate some of the pain that we've seen since Russia has launched its war against Ukraine," Regan said to the Senate Committee on Environment and Public works on April 6.
---
The solution was clear, and President Biden chose POET Bioprocessing – Menlo — part of the plant network of the world's largest bioethanol producer — as the stage for his announcement on April 12.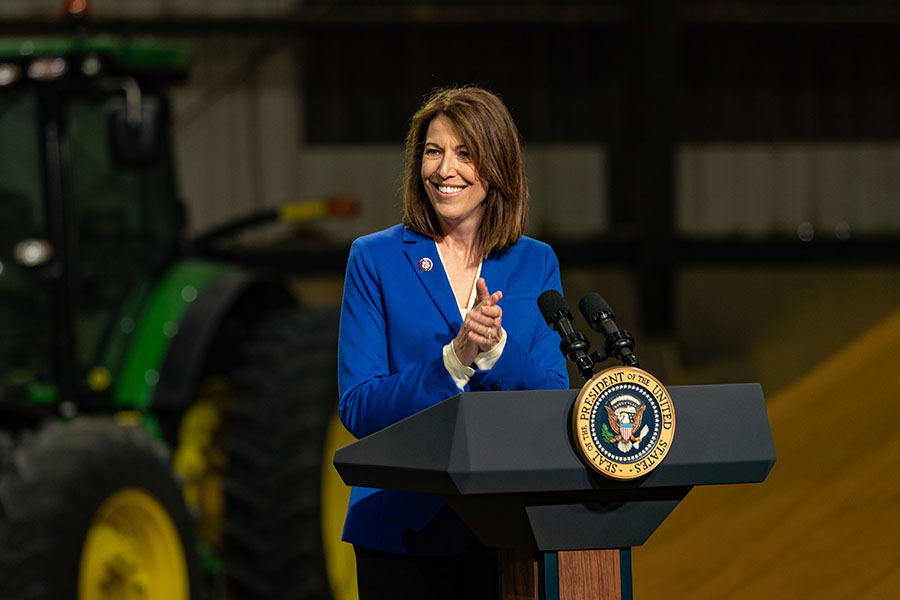 ---
POET team members in action
---
POET was notified on the afternoon of Friday, April 8 that a representative from the White House planned to visit the facility in four days. That kicked off a flurry of activity by POET team members to prepare the site.
---
POET Communications Specialist Shelby Christopherson spent Saturday morning discussing logistics and then left for the facility early the next day. She basically camped at the plant for the next three days and worked with the team at POET – Menlo to help coordinate behind-the-scenes needs for the event.
---
"We had to do port-o-potties and folding chairs; we had to move stuff, get it transitioned and accommodated for what their vision team liked. We had to coordinate with our customers," she said. "Nobody has port-o-potties available on the weekends, but we got them by 9:30 Monday morning. One guy took off from his full-time job and got them delivered to us."
---
Rachel Connor, Grain Merchandiser at POET – Menlo, spent her Sunday lining up staging requests from the White House — things like bales, trucks, and tractors. She worked with area farmers to get the necessary equipment and supplies.
---
"It was a very cool moment of everybody coming together for the same thing,"
Connor said.
---
"The teamwork that happened at the plant was just incredible to be part of, everybody pulling together like that. It truly was an incredible team effort to pull that off."
Rachel Connor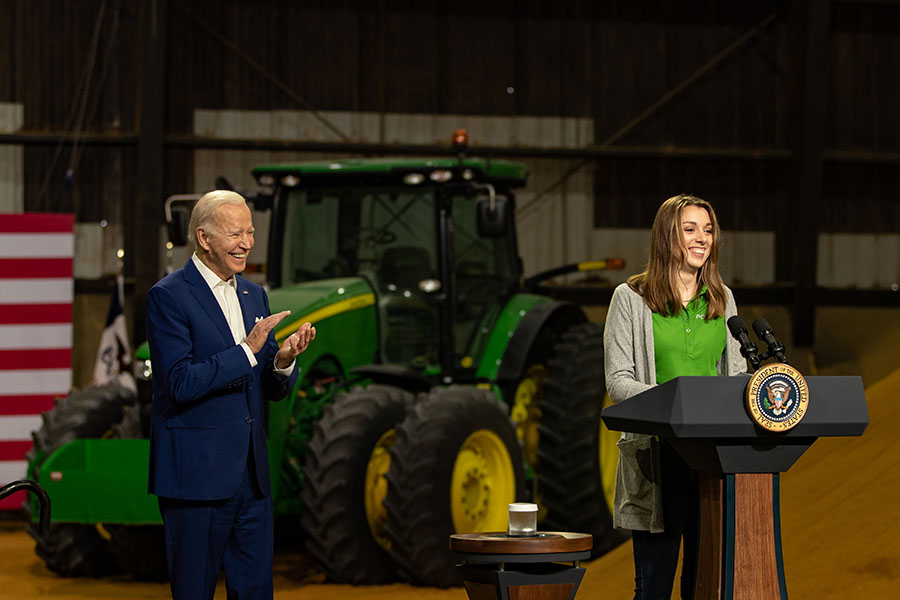 ---
Unexpected spotlight
---
For Connor, her effort to set the stage up turned into welcoming President Biden on stage.
---
During her drive home Sunday night after a long day of setup, she was called back to the plant. Some of the equipment was loaned to POET from nearby customers, but it was loaned with one caveat.
---
"My farmers that brought the equipment were pretty specific in that no one was to touch the equipment but me," Connor said.
---
A member of the White House staff hopped into a truck with Connor and was impressed with the image of a young Iowa woman from a fifth-generation farm handling the heavy machinery. The next thing Connor knew, she was enlisted as the representative of POET who would introduce the President of the United States.
---
No pressure.
---
But Connor was "incredibly flattered" to represent the plant and people who work there, POET, and the entire biofuels industry.
---
"It was a very cool opportunity to represent all of that, which is absolutely why I said yes — not because I have any love of public speaking," she said. "It's kind of a once-in-a-lifetime opportunity that I felt like I would very much regret letting go by."
---
So that Tuesday afternoon, she stood in front of the audience at POET – Menlo — and America — to lay the foundation for the exciting announcement that was to come.
---
"Many of you may recall when President Biden campaigned here in Iowa he promised to support biofuels, grow green jobs, and cultivate a low-carbon economy," she said in her speech. "Today America is battling Putin's price hike, and Mr. President, I can tell you America's biofuels industry stands ready to help."
---
Biden makes historic announcement
---
President Biden took the stage via Connor's eloquent introduction and laid out the issue: skyrocketing inflation driven this year by an invasion of Ukraine by Russia, in addition to ongoing environmental and economic needs that must be met by greater investment here at home.
---
"This industry has a role to play in a sustainable energy future," the president said.
---
Biden built up to the announcement that biofuel producers and much of America had been hoping all year to hear.
---
"I'm here today because homegrown biofuels have a role to play right now — right now — as we work to get prices under control to reduce the costs for families," he said.
---
"The Environmental Protection Agency is planning to issue an emergency waiver to allow E15 gasoline that uses more ethanol from homegrown crops to be sold across the United States this summer in order to increase fuel supply."
---
Support across the country
---
Biden's announcement was celebrated throughout the industry and well-received by leaders across the country.
---
Iowa Rep. Cindy Axne gave the opening remarks for President Biden's visit and noted the importance of biofuels to the state.
---
"Investing in biofuels not only helps Iowa's farmers and rural communities but also lessens our nation's reliance on fossil fuels and brings down prices for Iowa families," she said.
---
Secretary of Agriculture and former Iowa Governor Tom Vilsack, who was a crucial component in achieving the waiver, also weighed in on the important announcement:
---
"The President's announcement today builds on his bold actions to reduce energy prices and tackle rising consumer prices caused by Putin's Price Hike by tapping into a strong and bright future for the biofuel industry, in cars and trucks and the rail, marine, and aviation sectors and supporting use of E15 fuel this summer," Vilsack said in a release from the U.S. Department of Agriculture.
---
A day to remember
---
For previous POET presidential visits (George W. Bush in 2002, Barack Obama in 2010, and Donald Trump in 2015), teams had several weeks of notice to prepare to host the leader of the free world. This time, everything came together in just four days thanks to round-the-clock work from the team at POET – Menlo, POET's Government Affairs and Communications Team, and many supportive partners from the Menlo community.
---
Just as quickly as it arose, the event was over. But, as POET works alongside Growth Energy and political allies to find a permanent fix for year-round E15, the impact for the biofuels industry could be far-reaching. And the impact for those involved will last a lifetime.
---
"If you would've told me coming into my position at POET that I'd be working with the White House and get to meet the president in a few months, I would've told you you're crazy," Christopherson said. "But here we are!"
---