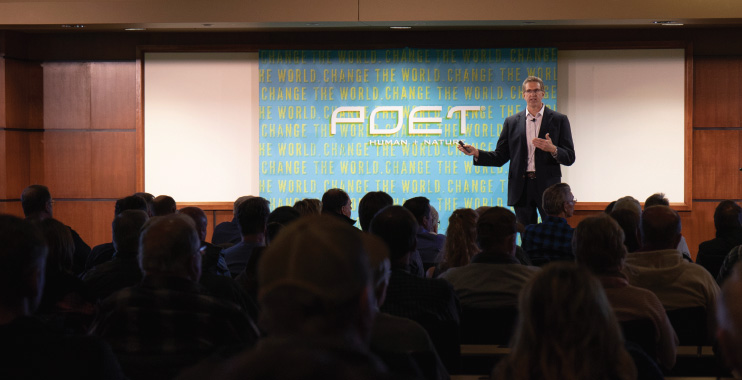 ---
Nov. 30, 2018 marked a pivotal day in the next chapter of the POET story when the consolidation of 26 bioprocessing plants was officially completed. Operating with the strength of those 26 facilities, POET Biorefining, which has come to be known as PBR, is now the largest producer of biofuels in the world.
---
The bulk of this massive transition took place in numerous mergers over a period of three years, but it took over a decade of patience and planning to lay the groundwork that made it possible.
---
POET's substantial growth over the past 30-plus years has required extraordinary vision, common sense, and, perhaps most importantly, adaptability. The company has been faced with countless big decisions, all of which have been met with intention and precision to anticipate the needs of an ever-changing industry. Until now, one of the most prevalent examples was the bold decision to unite all of the company's divisions under a new name in 2007.
---
The initial discussions that would eventually lead to PBR date back to roughly that same time.
---
"We began looking at the model and saying, 'Is this still the right model to continue to build the business?'" recalled Jeff Lautt, POET President and Chief Operating Officer. "And at the time, it was. But we would sit down year after year and ask the same question. Eventually, we realized that it was going to have to change to allow for future growth."
---
That realization came in late 2012, when the biofuels industry was emerging, battered and bruised, from a period of exceptional challenge. Recession, drought and financial crisis had decimated several companies; many ethanol plants went bankrupt and were sold to outside entities.
---
"Before we had just competed with other small companies and farmerowned plants," said Lautt. "Suddenly we found ourselves competing with large public companies — even oil companies — and we knew we needed to reposition ourselves."
---
It was in that same year that POET executives began having conversations about potentially taking the company public. Prominent bankers, consultants and lawyers were brought on board to assess what the process would entail, and with all that horsepower on board, things were barreling rapidly in the direction of going public. The team went through all the necessary motions of working with Wall Street banks, meeting with plant boards, and appraising each plant and division of POET with the intention of rolling everything together.
---
D-Day was looming closer, but something just wasn't sitting right with the POET team. "My gut was telling me that we were about to make the wrong choice for the company," remembered Jeff Broin, POET Chairman and Chief Executive Officer. "So I went to the executive team and said, 'We have two options: We can go public, or we can be patient. It will require us to grow more slowly, but it will allow us to do it our way. This just isn't feeling right, so I think we should pull the plug.'"
---
The team was in agreement, so they hit the brakes. In hindsight, there's no question that was the right decision. A downturn in financial markets had made the public offering difficult to complete. In addition, some of POET's competitively sensitive information would have been made public, which would have been detrimental to the long-term success and profitability of the business.
---
"Usually what happens to companies is they get on the one yard line, and there's so much inertia that they go forward even when it becomes obvious it's a bad decision," said Lautt. "I think that following our intuition is a discipline POET has practiced really well, and it was very meaningful in this case because going public at that time would have been exactly the wrong thing."
---
PBR is born
---
As the dust settled and 2013 rolled around, a new idea took hold: How could POET attain many of the advantages held by public companies without actually becoming one? The drought of the previous year had proven that the company needed to establish new financing options to handle volatility in the future. Executives and plant boards sought to achieve consistent stock values, liquidity options for existing investors, and the expandability and flexibility of one large financial structure.
---
The first phase in that transition was the establishment of POET Grain in 2014, which united every plant's individual grain business under one large grain division. "That strategy has been fantastic," said Broin. "We've improved our grain position, we've got the right financial structure, and all the plants are now investors in that single company. POET Grain was the first step we needed to take in order to make the leap to PBR."
---
The success of that endeavor fueled further conversations about an even bigger merger, which would involve the aggregation of multiple plants into one entity. Strategic discussions continued, and in 2015 the team arrived at the model that is known today as POET Biorefining. But, as Broin had predicted, the process would require patience.
---
"We knew it would be next to impossible to get 26 boards and plant entities all rolled together at once," said Lautt. "It would be like trying to swallow a watermelon. So we decided to do something we knew we could execute."
---
They started in the Eastern Corn Belt, since all seven plants in that region were built around the same time, with similar boards and investor bases. Meetings were held with each plant to initiate PBR I, the first stage of the consolidation. While it took some time to work out the details, negotiate the valuations and convince each board of directors that PBR was the right vehicle for future growth, by early 2016 all seven boards had voted unanimously to take the merger to a membership vote. Shareholder votes were held at each plant that spring, and in the end the approval rate to move ahead with the merger was more than 97 percent.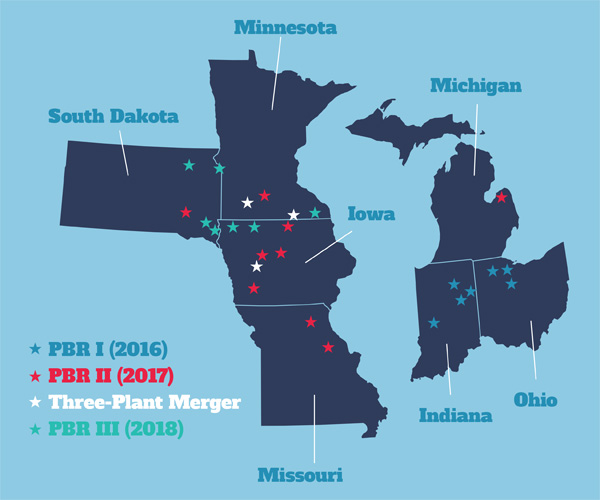 ---
The following year POET embarked on PBR II, the accumulation of nine additional plants located largely in the Western Corn Belt. Once again, POET executives worked with the boards of directors to explain the proposition and negotiate the values for each facility. After the boards approved the merger another membership vote was held, yielding a shareholder approval rate of more than 96 percent in favor.
---
POET Biorefining had 16 plants among its ranks. Only ten remained. Then, in mid-2018, PBR purchased three additional POET plants in a transaction that once again generated a high investor approval rate of 98 percent, bringing the total to 19.
---
The final acquisition, PBR III, had a wide array of complexities and would prove to be the most challenging phase of the three. The seven remaining plants were approached with the opportunity to join POET Biorefining, and after numerous meetings with board members, all seven plant boards voted to take the mergers to their shareholders for a decision. Once more, every single shareholder group voted in favor, with a 94 percent collective approval rate. The consolidation was finally completed at the end of November 2018.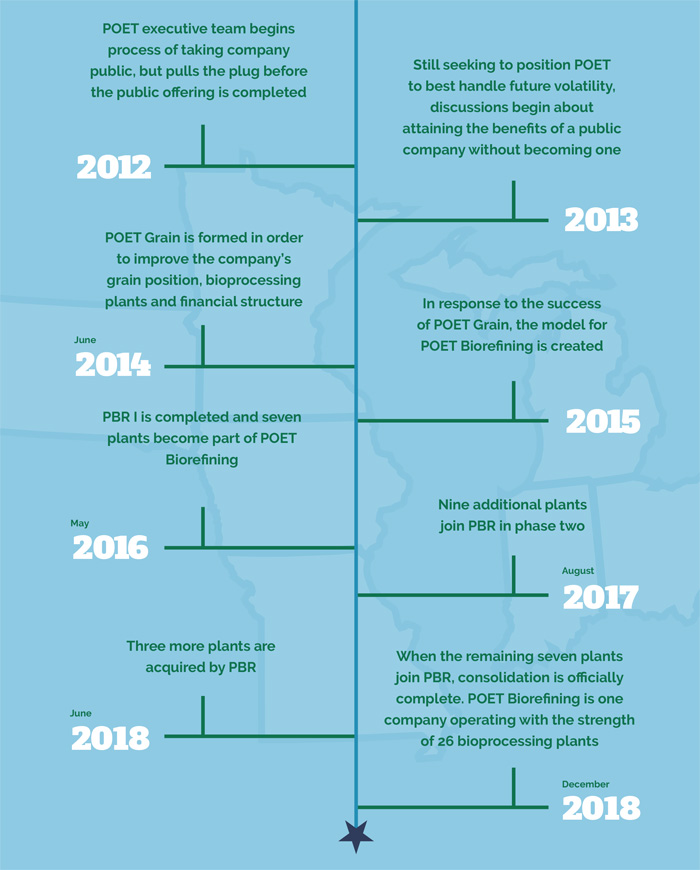 ---
An 'exciting new era' begins
---
True to their reputation as ethanol pioneers, the POET team had achieved yet another industry first with PBR: The consolidation of 26 individual plants into one unified entity had given POET the strongest capital position for a standalone dry mill biorefining company in our nation's history.
---
It also made them the world's largest producer of biofuels.
---
Through PBR's success, POET had proven once again that there is strength in unity. "If you were previously an investor in a single plant, your opportunity to grow the value of that investment was limited based on the plant's ability to grow," said Lautt. "Now investors are able to grow along this large platform of a business, which provides a plethora of potential new opportunities."
---
Those opportunities include increased liquidity, better value transparency and diversification of investment risk. Shareholders can also participate in new ways to create income and receive enhanced share prices.
---
"More than 6,000 shareholders originally invested in POET plants over time, and their investment strategies have evolved over the past one to two decades," said Seth Artz, Director of Investor Relations, POET. "PBR is doing a great job supporting those needs in various ways, and liquidity options are a key feature. Those options have had a major impact with nearly half of the investor base taking advantage of the PBR share repurchases, both in part and in full."
---
Perhaps most notably, PBR provides unprecedented potential growth opportunities.
---
"PBR's partnerships with investors, producers, and communities continue just as they did before the mergers," said Wyatt Haines, Treasurer, POET. "One material difference is PBR's improved ability to grow its gallons and co-products per plant. Plant expansions allow those facilities to reach industry-leading scale and efficiency by offsetting fixed costs, while bringing more dollars to those communities and increasing demand for local corn producers."
---
In fact, the consolidation has already enabled an 80 million gallon expansion at POET Biorefining – Marion — the largest in POET history — and the construction of a new plant in Shelbyville, Ind.
---
And that's only the beginning.
---
"PBR has launched a very exciting new era for the company in terms of potential growth and expansion, as well as mergers and acquisitions," said Broin. "I have dedicated essentially all of my adult life to the ethanol industry and its impact on the American farmer, and I am truly motivated by this new opportunity to continue making the world a better place — for farmers, for consumers, and for future generations — through biofuels."
---