---
When was the last time you talked to a farmer who said, "I love wasting money! If I can overspend on something, that brings me great joy!"? Not only has this never happened in history, it never will happen. That's why, as a farmer, I get frustrated when I hear non-farmers suggest that farmers are overfertilizing, polluting the environment and contaminating our water supply. Here are the steps most farmers take to avoid nitrogen problems, as well as a few facts about nitrogen.
---
FACT#1: The drinking water standard in the United States is 10 parts per million (ppm) of nitrate-nitrogen. There is almost always some level of nitrate in water. Adults can actually withstand far worse levels than 10 ppm, but the acceptable level is far lower just to be extra cautious for infants.
---
FACT#2: Nitrate is naturally produced in soils through the process of organic matter mineralization. Even if a farmer applies zero nitrogen in his field, as soils warm up each summer, they release nitrate, some of which will likely leach down and end up in groundwater at low levels.
---
FACT#3: Ammonium nitrogen — the other main form of nitrogen found in soil besides nitrate — is fairly non-leachable. Soil has a negative electrical charge. Ammonium nitrogen has a positive electrical charge, which is why it doesn't leach down like nitrate. Farmers use ammonium forms of nitrogen and nitrogen stabilizers (which help keep nitrogen in the ammonium form longer) to reduce loss.
---
What do farmers consider before applying nitrogen?
---
HOW MUCH NITROGEN DOES THE CROP NEED, AND WHEN DOES IT NEED IT?
---
Yes, as yields go higher, more nitrogen is required, but if the nitrogen isn't needed until later in the season, you see many farmers split-applying nitrogen. Some of it goes on in the fall or spring, with the rest being applied as the crop is growing. Additionally, farmers use variable rate technology to fertilize more in areas of the field with higher yield potential.
---
HOW MUCH NITROGEN IS IN THE SOIL, AND HOW MUCH WILL BE IN THE SOIL?
---
By running soil tests, farmers can see how much fertility they already have, and they can also estimate how much they will have later on. For example, on our farm we figure about 20 pounds of nitrogen will be released from each 1 percent of organic matter in the mineralization process I described above. If we have 5 percent organic matter, that's 100 pounds of nitrogen we don't have to apply. In addition to pre-season soil tests, many farmers use pre-sidedress nitrate tests to get a more accurate measure of how much fertility they must apply in the summer to properly feed the plant. Technology companies such as Farmer's Edge use weather data, imagery and other field measurements to fine-tune these numbers.
---
HOW MUCH NITROGEN CAN THE SOIL HOLD AT ANY ONE TIME?
---
Take the cation exchange capacity (CEC) number from your soil test times 10. That will give you a rough idea of nitrogen-holding ability. For example, our farm's CEC averages between 15 and 20, so our soils can hold 150 to 200 pounds of nitrogen in most cases.
---
Thanks to modern farming practices and hard work, nitrogen efficiency is at an all-time high, as yield per pound of fertilizer continues to rise. The United States now has the cleanest, safest drinking water supply in the world, and it continues to get better each year! That's thanks in part to the great job farmers are doing with nitrogen management.
---
If you would like to see some of the newest technologies farmers are using to manage nitrogen, please join us at the free Ag PhD Field Day on our farm near Baltic, S.D., on Thursday, July 27. At last year's event we had over 10,000 farmers from 40 states and 25 countries! For details visit www.agphd.com.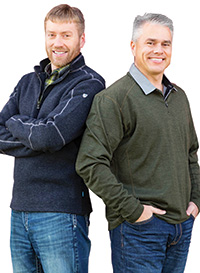 ---