---
Ryan Bader knows how to keep an audience on the edge of their seats.
---
Bader, a mixed martial arts (MMA) champion, has deftly punched, kicked and grappled his way to the top with an intoxicating mix of athleticism, intensity and confrontation that has been electrifying crowds since he broke onto the Ultimate Fighting Championship (UFC) scene as the season 8 winner of Spike TV's "The Ultimate Fighter" in 2008.
---
UFC fans might know Bader as "Darth" – as in "Darth Bader" – but he's more than just a fighter.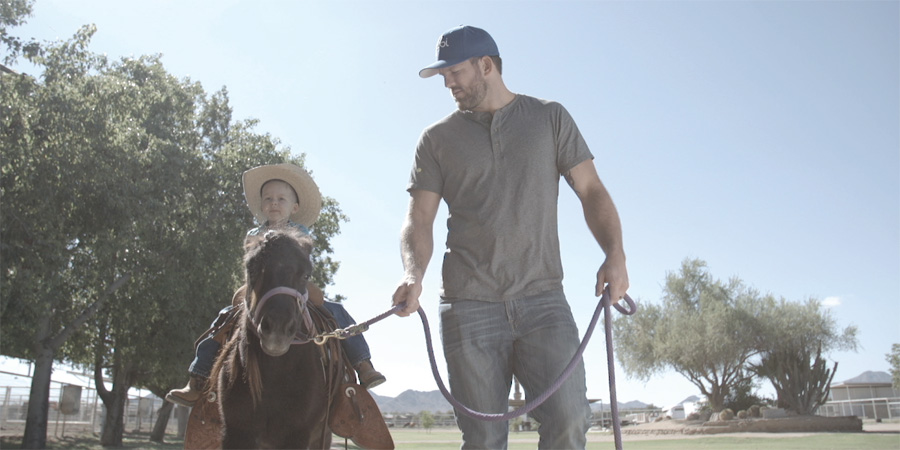 ---
Bader's a dedicated family man – a doting dad of three young kids – and advocate for American Ethanol, starring in the new "More than a Fighter, More than a Fuel" campaign. The campaign gives viewers a glimpse into Bader's life outside the octagon and away from the stereotypes surrounding a fighter – something UFC fans don't always see – and compares it to the misconceptions some people have regarding ethanol.
---
ATHLETIC ENDEAVORS
---
Bader, 32, grew up on a ranch outside Reno, NV, spending more time outdoors than in. When he wasn't hunting or fishing, Bader was playing football or wrestling – anything that would keep him busy, keep him moving.
---
Bader excelled on the football field. In fact, he was the 2001 Nevada football defensive player of the year. But it was wrestling – that one-on-one competition between Bader and his opponent – that he truly loved.
---
"You have a team," Bader says, "but ultimately, you're out there by yourself. You get the result of the work you put in. Your success is on no one else but you."
---
After high school, Bader wrestled at Arizona State University. Pursuing a career as an athlete, however, wasn't in Bader's post-graduation plans. "I had been wrestling for almost my whole life. I was kind of burned out," he admits.
---
A justice and social inquiry/business major at ASU, Bader started working in sales and marketing. But after two months, he realized his heart wasn't in it.
---
"I immediately missed competition and the ups and downs of being an athlete," he says. "I realized I wasn't going to be happy unless I could be pushing myself mentally and physically."
---
Friends encouraged him to give MMA a shot, so Bader started competing in local shows.
---
"I love competing, so I thought to myself, 'If I'm going to do it, I'm going to give it my all.' I don't want to look back and regret that I didn't try it, that I didn't give it my 100 percent."
---
JUST CALL HIM DAD
---
These days, Bader doesn't need labels like two-time all-American or three-time Pac-10 champion like he might have in college.
---
Today, he's happy just being called dad. Bader and his wife Daisy have three kids – 3 ½-year-old Kanon, 2 ½-year old Hartley and 14-month-old Rocket.
---
Juggling three young kids can be difficult, but family is No. 1. It takes priority over everything else, says Bader, who lives in Chandler, AZ. "Family is the most important thing to me," he says. The kids don't care if Bader wins or loses. They just want to be with him.
---
"When I'm fighting or training, that's my job. I'm there to get better. But when I'm home, I'm a dad and a husband. I shut off everything else," he says. "When I leave the gym, I leave all that there. When I'm home, I'm present."
---
That means bike rides and backyard ball tosses, Bader says. Tickle wars. Baths and bedtime stories. Lots of laughs and love.
---
That's hard sometimes, Bader admits. "There's always something to think about – your next workout, your next opponent. But being present is so important. I owe it to myself – and to my wife and my kids – to be the best dad and husband I can be."
---
Being a fighter doesn't define Bader's life.
---
"There are people out there who think we're just barbarians – that we're just fighting at a bar or something," Bader says. "That couldn't be further from the truth. We're just high-level athletes, dedicated to our work."
---
EDUCATING ABOUT ETHANOL
---
Those misconceptions about MMA fighters mirror some of the misconceptions around ethanol, says Greg Breukelman, Senior Vice President of Communications at POET. Those parallels were the basis for American Ethanol's "More than a Fighter, More than a Fuel" marketing campaign.
---
Helping people realize that ethanol is more than a fuel is critical. "When people are at the gas pump, they're mainly concerned about the price and performance of the fuel. But we hope this campaign helps people understand when they're at the pump, they're also making a decision on our energy security, our environment and our rural economies," Breukelman says. "Just like an athlete like Ryan is much more than just a fighter. Ethanol is more than just a fuel."
---
So far there are three TV/online ads like the one starring Bader, and Breukelman anticipates more in the future.
---
"I believe in the cause," Bader says. "Ethanol is a renewable resource. It's great for the country. And I owe it to myself and others to go out there and do the best that I can to make sure others understand ethanol, too."
---