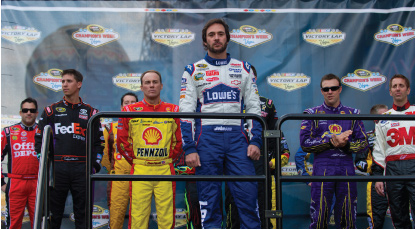 ---
The roar of cars tearing around the track at nearly 200 miles per hour, rivaled only by the roar of the largest spectator crowd in all of sports – audacious displays, barbeque and beer: There's no sport more American than NASCAR.
---
But at the 2011 Daytona 500, the sport will become more American than ever before. When the NASCAR season kicks off on Feb. 20, its cars will be fueled, for the first time, with a 15 percent blend of ethanol, dubbed "Sunoco Green E15."
---
Fans numbering 175,000 in the stands and millions from their couches at home will get a new or even first look at renewable fuel and see it power the most high-performance vehicles in the world. Engine experts in NASCAR crews will work with drivers to maximize the high-octane, home-grown fuel for peak performance at race tracks around the country.
---
A broad coalition of ethanol supporters came together with NASCAR to secure use of 15 percent ethanol in all three of the major series: the NASCAR Sprint Cup Series, NASCAR Nationwide Series and NASCAR Camping World Truck Series. American Ethanol will be part of the "NASCAR Green" campaign, featured in promotions, advertising, even on the cars themselves. A new logo will be evident at every race on every vehicle's fuel portal.
---
"When the flag drops at the Daytona 500 and NASCAR begins running on American Ethanol, that's going to be a really big day," says Eric Nyquist, NASCAR Vice President, Strategic Development.
---
It will be a big day indeed for an industry in the midst of a rapid transition from alternative fuel newcomer to a more mature industry looking for a larger piece of the fuel pie.
---
Making a case for E15
---
Allowing ethanol a little more market access, the Environmental Protection Agency recently approved 15 percent ethanol for millions of vehicles.
---
That approval was a large step for the industry, and the next large step is to encourage public acceptance of the fuel. That's where NASCAR comes in.
---
"NASCAR is leading by example and showing that American Ethanol-blended fuel works in the most challenging engine environment," POET CEO Jeff Broin says.
---
Jim Cassidy, NASCAR Managing Director of Racing Operations, says NASCAR will be a great demonstration platform for the American public.
---
"We know that Sunoco Green E15 is going to allow us to keep racing and performance as good as ever, but with the obvious benefits of ethanol," he says.
---
Nyquist says that was an important criterion for moving to a new fuel as part of NASCAR Green. They could not sacrifice their core product.
---
Tests continue, but they've seen enough to know that ethanol is going to be good for the sport. Some have reported achieving more horsepower with Sunoco Green E15 without impacting fuel mileage.
---
"We actually think this is going to be the best fuel we've used yet," Nyquist says.
---
"Ethanol actually is making more power than just regular gasoline, so I think that should be exciting for the fans to know that the cars will be running a little bit faster," says NASCAR Sprint Cup Series Driver and 2010 Daytona 500 champ Jamie McMurray.
---
That stamp of approval will resonate with the fan base and spread to the general public, predicted Gary Pestorious, a farmer near Albert Lea, Minn. and a Growth Energy board member.
---
"To me, what better way to show the American people that E15 is just fine for your motor?" he says.
---
A New Platform
---
Groups including Growth Energy, POET, National Corn Growers Association, Novozymes and others came together to connect America's green fuel to a true American sport. The groups joined NASCAR in Las Vegas in December to announce the historic partnership.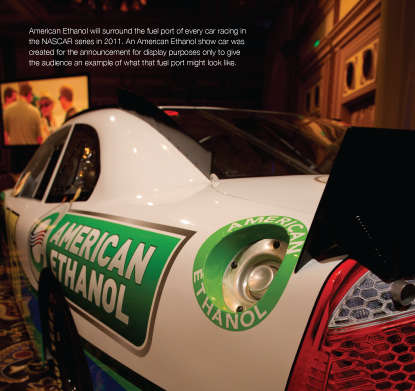 ---
"This partnership is more than just the ethanol industry," POET CEO Jeff Broin says. "This is a demonstration of support spanning a number of industries – enzyme manufacturers, corn growers, equipment manufacturers. Our partners recognize the importance of clean, homegrown and renewable fuel, and they are eager to help spread the word."
---
The scale and ambitions for this effort are larger than anything we have done in the past," Novozymes Regional Marketing Manager Jack Rogers says. "We are putting unprecedented resources to support the industry with new product development, service and support. Novozymes is dedicated to growing this industry every way we can – the NASCAR sponsorship adds another dimension to our efforts."
---
Ethanol isn't just part of NASCAR's green campaign; it is the "cornerstone" of the effort, according to Nyquist.
---
That means marketing, online, print, radio and television efforts. Ethanol will be on every fuel portal on the track, and the green flag will be branded with American Ethanol. Fans can expect to see a new look for ethanol, one that fits with the tone and spirit of NASCAR. Growth Energy is developing an "American Ethanol" brand with a logo prominently displayed on every racing car.
---
Advertising will be another one of the most noticeable areas immediately evident to fans, NASCAR Chief Marketing Officer Steve Phelps says.
---
"We'll have millions of dollars in advertising that will be committed to this green initiative, and the ethanol component is the centerpiece," he says.
---
That advertising is not only meant to tout the environmental focus from NASCAR. It's also an opportunity to educate the public about the benefits of the fuel. McMurray said NASCAR's effort is relevant to the general public. People are looking for more ways to be environmentally conscious.
---
"All Americans are doing what they can to be more green, and I think it's a natural step for NASCAR," he says.
---
There will be opportunities for the ethanol industry to be active at NASCAR events. A lot goes on outside the track, and the ethanol industry will have a presence on the "Midway," which is full of vendors, displays and activities. Details on the Midway promotion have not been settled, but it will provide an opportunity to educate the public in a fun way about not only ethanol, but American agriculture in general.
---
"Agriculture is the economic force behind rural America, and its close tie with the ethanol industry makes it a perfect fit," Growth Energy CEO Tom Buis says. "We think the message will really resonate with NASCAR fans."
---
"The productivity of America's farmers is unrivaled in the world, and our ability to supply corn for food, livestock feed and fuel should be a source of national pride," says Bart Schott, NCGA president. "This exciting new association with the NASCAR Nation will help to build that awareness."
Ethanol supporters are also looking at the possibility of getting a driver or team to act as spokespeople for the industry.
---
Largest Spectator Sport in the Nation
---
The new audience for American Ethanol is significant. NASCAR boasts 17 of the top 20 spectator events in the nation each year, according to Phelps. On top of that, NASCAR is usually the No. 1 or No. 2 most watched sport on cable on the majority of weekends during its 38-week season.
---
"You're talking about millions and millions of people viewing these races,' he says.
---
Buis is excited to reach so many new people. Ethanol's message is well-circulated in the Midwest and other corn-producing areas, but it needs better penetration in other areas of the country.
---
"This initiative pairs perfectly with our other goals of reaching those people who haven't heard our story before," he says. "We can't keep our audience limited to just agricultural states and the policymakers in Washington, D.C. – we need to talk to people on both coasts and the South, where the ethanol story has not been heard yet. NASCAR is a very effective way to tell that story."
---
Pestorious is excited about the opportunity to clear up some common misconceptions.
---
"After all the lies and myths that have been spread about ethanol, at the end of the day, the truth comes out," he says. "Ethanol is good for the country, it's good for engines, and it's good for the air."
---
Phelps says NASCAR fans are different from fans of other sports. They are significantly more likely to take note of the products and brands in the sport.
---
"We certainly have the most passionate and devoted fans in the country," he says. "They're going to support ethanol because ethanol is making their sport better."
---
Nyquist says when NASCAR focuses on an issue, they really "move the needle" in terms of public perception. NASCAR is focused on ethanol.
---
"There's going to be deep – to the core – level of commitment from NASCAR to American Ethanol," Nyquist says.
---
The demographic of a NASCAR fan is particularly relevant to the core values of ethanol. NASCAR draws a firm base from rural areas across the country, and those are precisely the areas that stand to benefit the most from continued expansion of the ethanol industry. Parts of rural America without a strong corn presence in future years could reap the benefits of cellulosic ethanol.
---
"People need to see what ethanol is doing right now for America, but also, they need to see its potential, what it will mean for all areas of the country in the future. We're going to bring that to them," Broin says.
---
Also, NASCAR fans are more patriotic than the typical American. The sport has strong ties to the U.S. military, and American pride is starkly evident at every NASCAR race.
---
"We're all about America, and we wrap ourselves in the flag at any opportunity we have to do that," Phelps says. "Having American Ethanol, not just ethanol, but American Ethanol, is critical to that."
---
"They say America is baseball and apple pie," Pestorious says. "Well, NASCAR should be on that list too."
---
NASCAR Green
---
NASCAR has made environmental responsibility a priority recently through the NASCAR Green campaign.
---
According to Mike Lynch, Managing Director of NASCAR's Green Innovation, the campaign aims to make a difference in three areas: waste, power and emissions. The organization wants to use itself as a "real-world demonstration of green technology and green solutions."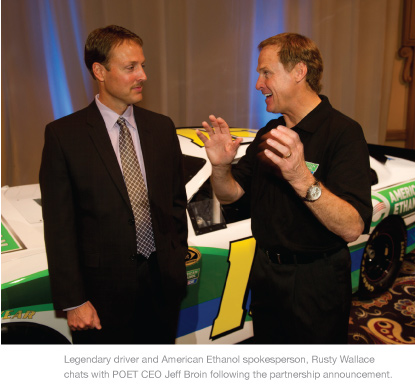 ---
"Having green biofuel on the racing track is something we think fits really well," he says.
---
Other parts of the green platform include:
---
Official Event Recycling:
---
A partnership with Coca-Cola, which recycled 2.5 million containers from NASCAR events in 2009, expanded in 2010 with additional corporate partners and is the largest recycling program in all of sports.
---
NASCAR Green Clean Air:
---
The organization plants 10 trees for each Green Flag that drops during the races (usually about 10 times). The carbon captured by those trees completely offsets carbon emitted from the race itself.
---
New Green Buildings:
---
The new 20-story NASCAR Plaza in Charlotte, N.C. and the headquarters for ISC and NASCAR in Daytona Beach, Fla. are LEED certified.
---
Battery Recycling:
---
Exide recycles used batteries at NASCAR team shops, and both Exide and NASCAR have a larger program to recycle car batteries, which are dropped off at the NASCAR Research & Development Center.
---
Through a number of different partnerships with Goodyear, Safety-Kleen and others, all tires, lubricants and oils used in NASCAR racing are recaptured and recycled. And there are many more.
---
But American Ethanol's role is more than just one effort among many. Fuel is sacred in the racing series, and using ethanol sends a strong statement. Ethanol will be a vital part of racing, and NASCAR wants everyone to know it.
---
"Every now and again in sports marketing there are relationships that go above and beyond," Nyquist says. "This is one."
---
There is one available alternative fuel in America right now: ethanol. NASCAR adopting American Ethanol is a major step toward wider adoption nationwide, Broin says. Ultimately, the American public will recognize that ethanol will allow our country to solve environmental, economic and security problems simultaneously.
---
"We must continue to find new ways to tap into America's passion and will to improve our nation and world," Broin says. "This is a significant step in becoming an even larger part of American life."
---
For NASCAR's part, they're ready to help the industry get there.
---
"The gravity of the situation isn't lost on us," Nyquist says. "NASCAR wants to be an instrumental part of what the ethanol industry is trying to get done."
---
Learn more about the partnership, visit americanethanolracing.com.
---