---
America's cellulosic ethanol producers face the daunting task ofintroducing new practices to one of the world's oldest industries: agriculture. In labs and pilot plants, scientists are fine-tuning the technology and innovation behind cellulosic ethanol, while others address the challenge of ensuring a massive and constant supply of raw materials.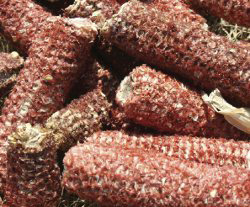 ---
Fortunately, the ethanol producers, agricultural community and scientists are not working alone. A federal program aimed at easing this transition for farmers across the country is now in motion. The Biomass Crop Assistance Program (BCAP) puts money in the hands of farmers to help defray startup costs for harvest, storage and transportation of cellulosic biomass.
---
CORN COBS
---
At POET, corn cobs are the feedstock of choice, and BCAP will play a large role in off-setting costs for farmers in the Emmetsburg, Iowa area, the future site of the company's cellulosic Project LIBERTY.
---
Emmetsburg-area farmer Todd Mathisen recalls how revolutionary this idea of agricultural waste as a fuel source for ethanol seemed at first.
---
"POET has made this happen, and cobs are a true waste product," said Mathisen. "Several universities have proven that it takes as much energy to breakdown a cob as you would get out of the fertilizer for that cob. You're just as well off to harvest it and process it into ethanol."
---
"This provides a wonderful incentive for farmers to get involved in a new farming practice that will bring significant new revenue to their operations," said Jim Sturdevant, Director of Project LIBERTY. "BCAP will help early adopters of this cob-harvesting practice get rolling, and it provides them the ability to jump in with lower risk to their operations."
---
The program, part of the 2008 Farm Bill's Energy Title, provides dollar-for-dollar matching funds up to $45 per ton of biomass directly to farmers for a two-year period. Farmers can designate their two years of participation.
---
POET will pay farmers somewhere in the range of $30-$60 per ton for corn cobs. With BCAP, that rises to $60-$105 per ton. And it's a windfall for the region, to the tune of more than $14 million for the Emmetsburg farming community, Sturdevant said — in addition to a $200 million investment in Project LIBERTY.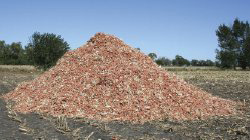 ---
These economics have helped win support for Project LIBERTY from state agencies. Brian Crowe, Senior Planner with the Iowa Office of Energy Independence, said they need partners who are just as focused on the feedstock logistics as they are the biological process.
---
"POET has demonstrated that they certainly will take a look at the entire system," Crowe said. "… They're really looking at the entire spectrum of work involved, which is why the state of Iowa and the Office of Energy Independence were drawn to the project."
---
EASING FARMERS' STARTUP COSTS AND RISKS
---
POET's Sturdevant sees this commitment from the federal government to accelerate cellulosic ethanol production as a key element to the nation's energy campaign.
---
"Our nation's farming community has a well-established infrastructure for farmers to harvest corn and deliver corn to an elevator or a bio-refinery," he said. "Farmers have been doing that for decades. But we don't have a well-established infrastructure for biomass harvest, delivery and transportation."
---
BCAP becomes instrumental at this point. Its two-year window for participation is meant to defray start-up costs for farmers. Farmers need to be able to show a strong return on their investment to lenders as the new revenue opportunity gets off the ground, said Scott Weishaar, POET's Vice President of Commercial Development.
---
"What we're doing has normally taken decades to progress. When new cash crops were created or harvest methods were created, they evolved over time," he said. "Basically, we are compressing this into just a few years."
---
Chris Wright, research engineer at Idaho National Laboratory in Idaho Falls echoed Weishaar's assertion. The government can ease farmers and lenders' fears, said Wright.
---
"Federal dollars are really good at de-risking technology," he said. "New technology [can be] too risky to fully understand from an industrial perspective, meaning they don't have the capital or dollars to put this risk out there because they have shareholders and investors. The federal dollars can come in and de-risk this technology and make it viable."
---
From the farmer's perspective, Mathisen added that without BCAP farmers might be weary of harvesting cobs, especially given the expense of the machinery.
---
"When you're coming into something as new as harvesting straight cobs, you don't want to make an investment without a good payback," he explained. "With the government matching funds, farmers who invests in cob harvesting in two to three years could use the money to get their machinery paid for and [show] a return on their investment — that's really important."
---
That investment in rural America will be the driving force toward a new energy economy, according to Rob Skjonsberg, POET Vice President of Government Affairs.
---
"Economically, BCAP has the potential to strengthen rural America, which means it's good for the entire country," he said. "Agriculture is the foundation of our economy, and if meaningful policies are adopted, a strengthened rural economy will help lead us out of the recession."
---
REACHING OUT TO FARMERS FOR PARTICIPATION
---
Through BCAP, the U.S. Department of Agriculture will designate qualified Biomass Conversion Facilities. In order to take advantage of the program, farmers must also register to qualify as a biomass producer.
---
POET recently formed a new division — POET Biomass — to help farmers navigate the process. The work of POET Biomass will be crucial to the success of BCAP and Project LIBERTY, Sturdevant said.
---
"POET has a key role to play in publicizing this program and educating and informing farmers about incentive programs like BCAP. It's one of the things that we can provide the farmers so they take advantage of this opportunity to help our nation," he said.
---
Senator John Thune (R-S.D.), who authored BCAP, said the funding is key to developing sound business plans for both ethanol producers and farmers.
---
"First, we need to promote BCAP to agriculture producers and ethanol manufacturers. It is important that producers who are interested in providing biomass to biorefineries know about this program before making management decisions to begin harvesting, collecting, storing and transporting biomass to a local biorefinery," he said.
---
USDA needs to act quickly to get the second step of the program — matching payments for growing energy-dedicated crops — off the ground as well, he said.
---
"The USDA must complete its environmental impact study on the second half of BCAP and implement this portion of the program as soon as possible," Thune said. "The second half of BCAP provides per-acre payment to producers who commit to growing energy dedicated crops."
---
He also said the program needs flexibility, adjusting to the changing energy needs of our country and expanding viable feedstock options for biofuels production.
---
"Congress, the USDA and ethanol producers should evaluate the effectiveness of this program and make any necessary changes as Congress considers reauthorizing this program in 2012," he said.
---
By and large, Mathisen said his farming colleagues are starting to believe that cob harvesting is viable.
---
"We've been trying to promote it, and I know, POET is doing a great job of telling people that they're going to make it seamless," added Mathisen. "It's going to be part of harvest. The number thrown out was 400,000 acres of harvested cobs [required] to run the plant at full production. It's pretty much going to take everyone on board, or it's just not going to work."
---
FUELING THE FUTURE WITH BIOMASS
---
This all translates to a stronger rural economy driving a stronger and more secure energy supply.
---
"It's not just a boon for individual farmers involved," Sturdevant said. "It's good for the community. It brings more revenue into the community. We believe that farmers may use the BCAP funds to pay for equipment, which is a boon to equipment manufacturers as well."
---
POET's Skjonsberg sees a future for America that includes a mix of both grain-based and cellulosic ethanol. Technology will continue to improve in both areas, and the government can hasten those improvements by continuing support that provides stability to the industry and increasing market access for ethanol.
---
"POET is driving these policies every day with an understanding that increased market opportunities will drive demand for both corn and cellulose," Skjonsberg said. "From a policy standpoint, the Renewable Fuels Standard (RFS) and the tax credit certainly encourages development of cellulosic ethanol. The federal government is actively researching advanced biofuels. … Politicians can't legislate science, but they are providing us with the tools to get there."
---
Senator Thune sees much greater potential success on the horizon with the industry nearing commercial-scale cellulosic ethanol production.
---
"The new Renewable Fuels Standard calls for the production of 36 billion gallons of renewable fuel by 2020," Thune said. "Twenty-one billion gallons of this new standard must be met by cellulosic ethanol production. Clearly, cellulosic ethanol production holds great promise to strengthen our energy security."
---
Mathisen adds, "For every farmer, it's a situation where they have to prove that even the theory of harvesting the cobs is viable. People are getting convinced that this is a viable option for ethanol. … When we get it developed and it's seamless — when you go to harvest corn and don't even think about harvesting the cobs — it's going to be a good deal."
---
POET Launches Biomass Division
---
A new division at POET brings focus to the company's work managing the harvest and transportation logistics of corn cobs and other feedstock.
---
Led by Scott Weishaar, POET's Vice President of Commercial Development, POET Biomass aims to ensure a steady supply chain of corn cobs, primarily for Project LIBERTY in Emmetsburg, Iowa.
---
"POET Biomass will have a couple of different focus activities," he said. "The first is based around agricultural waste — basically the collection of corn cobs for the conversion to ethanol. The second piece will be work in the area of identifying other alternative fuels to offset the use of natural gas at our plants."
---
The new division will also educate farmers about the Biomass Crop Assistance Program and act as a resource and liaison to help farmers benefit from the creation of this new cash crop.
---
"For cob collection, there are really three legs to this stool," Weishaar said. "One leg is the farmer; one leg is the equipment required to collect and transport the cobs and biorefining is the third leg. POET Biomass will really connect each of these pieces through its logistics and coordinated activities."
---
POET's education efforts have already begun. Last November, the company held its first LIBERTY Field Day, an open house where farmers could ask questions and see new cob harvesting equipment firsthand. Plans to repeat the event and provide smaller, brand-specific training are underway this year — all focused on supporting and refining the overall cob supply chain. Weishaar, who grew up about 20 miles from Emmetsburg, wants farmers to understand this potential new revenue source means simply adding one step to combining — collecting the agricultural waste.
---
"In 2009, we'll have about 40 farmers involved in the harvest activities," Weishaar said. "That's a great opportunity for POET Biomass to interact with the farmers to try to accelerate that learning curve."
---
POET partners with Idaho National Laboratory
---
The lead biomass laboratory for the U.S. Department of Energy — the Idaho National Laboratory — is now working with POET researchers to examine feedstock procurement and the supply chain surrounding use of corn cobs to produce cellulosic ethanol.
---
Maintaining feedstock quality is a key challenge for cellulosic ethanol producers. It's an area of particular focus for the Idaho laboratory, said INL's Research Engineer Chris Wright.
---
"What we face with biomass, particularly in the latitudes that we live in, limited harvest windows," Wright said. "Because this biomass has a limited time it's in a 'fresh state', it will start to degrade over time if it's not stored properly. … The storage and transportation infrastructure is critical for maintaining the material in a state that is useful to a refinery for at least up to a year."
---
Because of INL's research capabilities and stellar reputation, POET's Roth says a research partnership like this adds instant credibility to their conclusions. The research enables POET to better answer the farming community's questions. These questions typically include:
---
Is cob collection going to slow me down?
Is it going to hurt my soil?
How do I store and transport the cobs?
At the end of the day, what's my revenue going to be?
---
"We are currently working on a research plan for this fall that will look into the storage of corn cobs," Roth said. "Right now, they're working on in-lab experiments so we can understand better what we're going to see outdoors this fall. It's been a great relationship to have them on board and collaborate together. These folks are the premier energy researchers in the United States and probably the world."
---