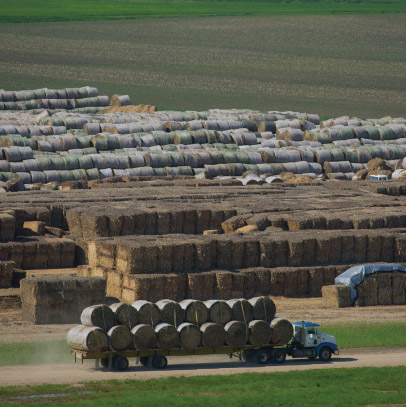 ---
This spring, Rick Elbert looked out over his 1,400 acres of corn and saw row upon row of emerging green.
---
Step back a few months, to the leaded skies of winter, when his fields were mostly a monochrome of tans and browns. But in those fallow fields, Elbert says he could see a different kind of green, too. It's the money the Emmetsburg, Iowa farmer made by bringing baled corn stover to Project LIBERTY, POET's ground-breaking cellulosic ethanol plant.
---
With a ticket from POET and government incentives, Elbert pocketed about $68,000 for something he used to let his cattle and hogs pick through, then tilled under before planting anew.
---
"I think it worked quite well for our operation, it fit in good with our cattle operation," Elbert says. "We already had the machinery, so we were able to just carry on without a whole lot of adjustments, maybe one more tractor. The delivery went pretty good, too."
---
Testing theories
---
This past winter, POET began taking delivery of its first commercial biomass harvest of corn cobs and light stover. Officials are now test-storing the materials at a 22-acre stackyard outside its existing corn ethanol plant near Emmetsburg.
---
Eighty-five farmers have delivered nearly all the 56,000 tons POET needs to further test its theories about turning light stover and corn cobs into cellulosic ethanol. The company's goal, according to POET Chief Executive Officer Jeff Broin, is to be responsible for 3.5 billion gallons of cellulosic ethanol by 2022.
---
And that all starts with biomass – what some farmers would call a waste product – of cob, leaves, husks and some corn stalk.
---
When operational, Project LIBERTY is expected to produce 25 million gallons of cellulosic ethanol a year. POET's pilot-scale plant in Scotland, S.D. already is producing cellulosic ethanol at a rate of about 20,000 gallons per year.
---
"To put this in perspective, 3.5 billion gallons is over 20 percent of the cellulosic ethanol mandated in the Renewable Fuel Standard – a program designed to reduce greenhouse gases, reduce petroleum imports, and develop and expand the renewable fuels industry," Broin told the National Press Club in Washington, DC, in April. "This is a lofty goal, but it is achievable. If we can put a man on the moon in less than a decade, a country as great as ours can meet this challenge as well. But we must take the first step. At POET, we are ready."
---
According to POET's plans, the 3.5 billion gallons of cellulosic ethanol will come from three primary sources:
---
1. One billion gallons of production capacity will come from adding the technology to POET's existing network of 26 corn-based ethanol plants.
---
2. Licensing that technology to other corn-based ethanol producers will lead to another 1.4 billion gallons of production capacity.
---
3. Another 1.1 billion gallons of production capacity will come from a wide variety of other feedstocks from across the U.S. These gallons will be produced by POET or through joint ventures and opportunities where POET Biomass provides logistics support to other producers.
---
"We're committed to working with researchers and farmers to make sure this is done correctly, and it looks like that is the case right now," Broin said.
---
What POET hopes to understand with these first bold cellulosic ethanol steps – and that's being backed up by two ongoing research projects – is the best way to harvest, ship and store biomass to get the most bang for the investment, while caring for arguably the best growing soil in all the world.
---
"There is no model to follow in putting together a system to produce cellulosic ethanol, but we're committed to creating that model for the long-term benefit of the country," Broin said recently. "Renewable fuel requires healthy soil. We're glad to be working with quality research partners to ensure the soil around Emmetsburg remains that way."
---
Research is at the heart of POET's cellulosic revolution.
---
Educating the farmer
---
Dr. Douglas L. Karlen with Unites States Department of Agriculture (USDA)-Agricultural Research Service and Dr. Stuart Birrell with Iowa State University (ISU) recently released their third-year results on how soil health is affected by the removal of crop residue.
---
While out West, Kevin Kenney, Lead Research Engineer with the U.S. Department of Energy's (DOE) Idaho National Laboratory, is busy sorting out data from a second year of study on how best to store corn stover so the carbohydrates don't completely break down before being turned into biofuel.
---
"There's just so much that we are learning, from the equipment to the process to the agronomics to the actual storing of the biomass before it gets turned into ethanol," says Scott Weishaar, Vice President of Commercial Development for POET. "What we've observed and learned is excellent data, but we know there will be some variables that will be different, year-to-year. That's where we are today – educating the farmer as well as the landowners on how minimal the impact is in removing this small amount of ag residue from their fields. We're learning the best practices for the farmers and passing them along, so the biomass has the most value by the time it gets to us."
---
The newest USDA/ISU data confirms previous claims that removing about 1 bone-dry ton per acre (which is about 25 percent of the area's above-ground crop residue) will not cause significant nutrient loss.
---
In fact, corn yields continued to show no yield loss – or moderate increases – in fields with this rate of biomass removal, according to the research summary prepared by Drs. Karlen and Birrell.
---
"In summary, the three-year results of this collaborative project have shown that with good management, corn stover can safely and sustainably be harvested from fields…," the report reads. "Based on this study, we conclude that 1½ to 2 bone-dry tons/acre of corn stover can safely be harvested from fields such as those represented by the one used for this research. Routine soil testing and plant analysis should also be used to monitor effects of stover harvest and all farming operations. These are wise and economically beneficial practices and should be part of every farm management plan."
---
When operational, Project LIBERTY will use some 300,000 tons of biomass annually.
---
A piece of the puzzle
---
The DOE's Kenney says his preliminary research indicates corn stover collected from farmers' fields can be successfully stored prior to the ethanol conversion process. But he cautioned that it's going to take time – and more years of study – to accurately pinpoint how much storage loss is acceptable before the biomass is converted to cellulosic ethanol.
---
The two years of the DOE study have been polar opposites, as far as environmental conditions, Kenney says. In 2009, Iowa saw one of the wettest years on record. In 2010, it was much drier.
---
"While the first-year study focused on storage of single-pass bales, particularly high-moisture, this past year we didn't get that, so we broadened it to study the wide range of bales we had available," Kenney says. "We had round bales, square bales, single-pass bales, second-pass bales and more storage. We're busy compiling that data now."
---
Those results, Kenney says, will be delivered to the DOE and POET by September.
---
"In a nutshell, we're not only trying to understand dry matter loss, but the impact on the value and resulting performance of the feedstock," Kenney says. "You do want it to break down, ultimately in the conversion process. But in the storage system, you want to preserve quality the best you can, that's the objective of storage."
---
And that's why POET's 22-acre biomass stackyard near Emmetsburg is such an important piece of the puzzle, says Adam Wirt, Regional Biomass Coordinator for POET. The yard was completed in October and took its first biomass delivery in January.
---
"It's really given us an opportunity to test out theories, our hypothesis on how delivery would go, timing of trucks and looking at storage," he says. "Now we have a chance to go back, sit down, and walk through that process and retool it for next year."
---
A work in progress
---
What complicated things was the devil in the details, Wirt says, as farmers who signed onto participating in the commercial collection had to sit out some bad weather – and then waited as the guidelines for the U.S. Department of Agriculture's Biomass Crop Assistance Program (BCAP) were finalized.
---
Meant to offset startup costs for developing the feedstock market for cellulosic ethanol and other alternative energy endeavors, government incentives – including BCAP and a DOE incentive – provided farmers an additional means of revenue for their early entry in biomass collection.
---
"To me it made sense," says Dan Chism, who farms 2,000 acres of corn near Emmetsburg. "There were some delays, but that wasn't POET's fault. It's all brand-new, so we're learning. As far as the baling process, I was happy."
---
POET officials stressed that what's happening around Emmetsburg is a work in progress, but that POET is committed to the farmer – and to the nation's driving public – to do what is right for the land and the future of clean, green biofuels.
---
"I don't think five years of studying biomass collection and associated activities necessarily makes us an expert," Weishaar says. "We are much more informed and knowledgeable today but we need a lot more data and observations. I believe that's one of the key takeaways in all of this – farmers and other individuals now understand that we're not in this for the short-term. It's no different than grain, we want to understand and recommend the best practices and we want to be good stewards of the land. This is a long-term process that if the farmer isn't successful, we're not going to be successful. This extra work, studies and communication are essential steps toward building a sustainable and widely accepted biomass market."
---
For Elbert, what this all means is not only a new revenue source for his farming operation – but a farming future for his son, Kyle. The 20-year-old modified the family's baler and did custom baling and hauling for several of the farmers who provided biomass to Project LIBERTY.
---
"It worked quite well for him," the Elbert says. "It's been a great thing for a young person to get started in the business. I think it's provided a great opportunity for him."
---