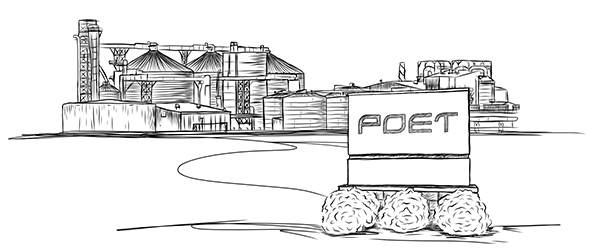 ---
When we began producing bioethanol on my dad's farm in the 1980s, we had a humble mission: to use surplus grain, add a small profit center to our operation and make some clean fuel along the way. Little did we know when we purchased our first one-million-gallon plant in Scotland, SD, a few years later that biofuels would evolve into perhaps the most important near-term solution to a problem we couldn't even envision at the time: climate change.
---
Today bioethanol makes up more than ten percent of the fuel consumed in the United States, and even higher percentages are used in countries like Brazil. The Biden Administration recently announced a 50% reduction in greenhouse gas emissions by 2030, and I'm not exaggerating when I say there is no way to get there without a significant increase in the amount of biofuels used in our nation.
---
Earlier this year, Environmental Health & Engineering (EH&E) released a study proving that plant-based bioethanol is 46% cleaner in carbon emissions than gasoline, and that's just a start. That number is improving year after year, and I predict that we will see bioethanol carbon emissions at 70%, 80% and perhaps even 100% cleaner than gasoline in the future.
---
Improvements in emissions will come from several things, perhaps the most important of which will be low carbon farming. This can be driven by state or national low carbon fuel standards. Under these programs, farmers would actually be incentivized to produce lower-carbon grain, resulting in lower-carbon bioethanol that already commands a premium in states like California.
---
Several studies are also underway that may prove that agriculture could be a bigger carbon sink than people previously thought. In addition, at POET we are constantly looking at ways to lower the carbon in our bioethanol production process, including using renewable energy to power a portion of our plants, and tax incentives are currently available for carbon sequestration.
---
When you look at the total of these opportunities, biofuels could quite literally be in sync with nature, making homegrown, plant-based fuels the cleanest option available in the fight against climate change. Some say agriculture is a problem for the climate. I say it's the solution—perhaps one of the only true solutions to the biggest threat facing our world.
---
At POET, our faith in the future of the biofuels industry has never wavered; in fact, it has only grown stronger, as we demonstrated with our recent acquisition of six more bioprocessing facilities—resulting in 40% growth virtually overnight. While biofuels may be a near-term solution, what's most important is that we are also a long-term solution. The world will continue to need low-carbon liquid fuels well into the future, and we are the most sustainable liquid fuel on the planet.
---
We don't have years to wait. Biofuels are affordable, available and accessible, which means every American can reduce their carbon footprint right now. We already have the infrastructure—more than 100,000 fuel stations across the country and more than 270 million vehicles on the road today—we have the common goal to solve climate change, and now with three billion gallons at POET, we are even better positioned to make an impact.
---
Make no mistake—we are at a tipping point. The threat of climate change is imminent, and the sun, the soil and the seed hold the most significant key to saving our planet.
---