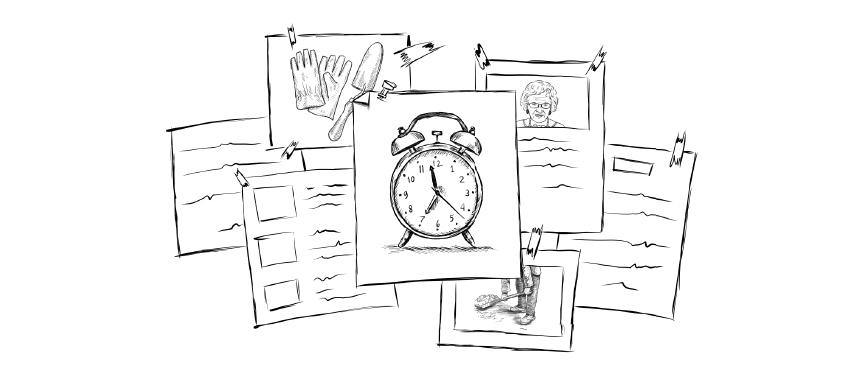 ---
Picture this: You scheduled a 9:34 AM tee time at a popular golf course, and you roll in at 9:33 AM to notify the clubhouse staff (or official starter if you're at a fancy course): "Wait, I'm not ready yet!" You mosey over to the driving range to hit a few balls, do some pseudo-yoga stretches, then stroll back into the clubhouse for a Diet Coke. Now at 10:17 AM, you inform the starter you're ready to tee off, and he politely guides you to the tee box.
---
Has this ever happened to you?
---
Of course not. Because that's not how golf works. If you plead, "Wait, I'm not ready yet!" the starter will likely glare at you dumbfounded and continue ushering the next foursome to the tee box. He would just as likely lend you his underwear than allow you to tee off past your scheduled time. Golf etiquette doesn't really care if you're ready or not for the mutually agreed upon, very specific tee time. Golf is going to continue with or without you. "I'm not ready yet" is not an adequate pause button for golf, and it certainly is not for life.
---
I've reached a new stage in life where the time has come to step up to the tee box, but "I'm not ready yet!"
---
My oldest daughter will head off to college this fall. It's a normal progression for a young adult to leave the nest after high school to explore life on their own. It's an exciting time for her, and I fully acknowledge it as a critical next step in shaping her future. But I'm not ready yet.
---
My youngest child will get his driver's permit soon. Driving freedom is a monumental milestone for a teen and parents. He'll soon be able to drive himself to school, the gym, and the soda fountain (or wherever teenagers go these days.) I should be thrilled that my days as an unpaid chauffeur are nearly over. But I'm not ready yet.
---
The U.S. Preventive Services Task Force recently lowered the recommended age for getting a colonoscopy from 50 to 45. I'm definitely not ready for that yet.
---
Ready or not, these new realities are staring me in the face (well, maybe not exactly my face in the last instance). They are not-so-subtle landmarks, pushing me into a new phase of life. The hectic but comforting days of young parenthood and not getting colonoscopies are coming to a close.
---
Like my 9:34 AM tee time, I knew this time was coming. I also know that attempts to hit an imaginary pause button, pleading with life to wait, will be pointless. I feel a bit short on practice swings and a bit tight in the hip flexors, but my next tee time has arrived. If I want to play, I guess I have to step up to the tee and smack it down the fairway. Or just into the rough. Okay, probably the fairway of the next hole over. But at least I'll be playing!
---