---
In the biofuels industry, one of the biggest hurdles we often have to overcome is a general lack of awareness — or, even worse, negative misinformation — surrounding our exceptional product. That's why we have to use every tool at our disposal to move the needle with consumers.
---
We all know that one of the most important tools in any toolbox is the hammer. Well, our "hammer" is education. The facts are on our side — we just have to make them known. And the best place to build a foundation for education is with the subject matter experts: auto mechanics.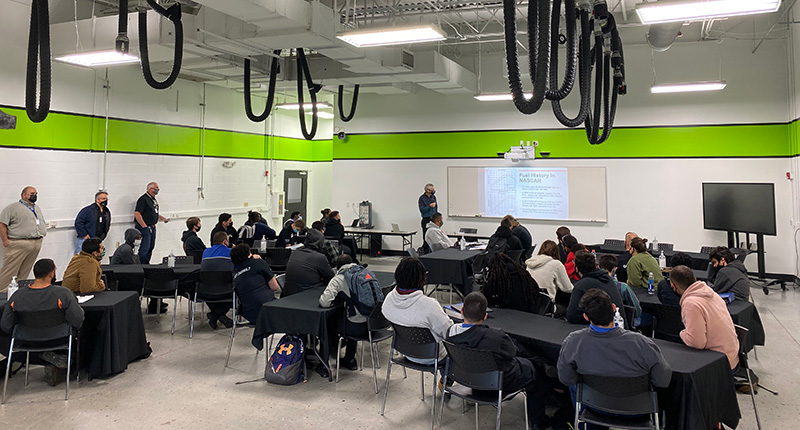 ---
Get Biofuel most recently donned our hammer in late 2021 at the Orlando campus of the Universal Technical Institute (UTI), the premier educational automotive institution for aspiring mechanics. Dr. Andy Randolph hosted a three-session biofuels performance workshop attended by nearly 300 UTI students and instructors.
---
Dr. Andy is a fuels expert with a background in Chevrolet and NASCAR engine building. He is a very factual, engaging, and entertaining instructor, and he kicked off the workshop with a discussion of the many positive attributes of bioethanol. He explained that it is a "more-than" product — that it has evolved into more solutions than even the visionary Henry Ford could have imagined when he predicted bioethanol would be the fuel of the future.
---
"Bioethanol is an amazingly versatile product, with uses ranging from automotive fuel to alcoholic drinks, to, yes, even hand sanitizer," said Dr. Andy. "As a fuel, bioethanol is renewable, safe, cost-effective, high in octane, and very clean, which is especially ideal given the climate crisis we are confronting."
---
The question-and-answer portion took up most of the workshops, which Dr. Randolph welcomed. After all, the best way to educate oneself is to ask questions. I even slipped in my own question at the end of our last session: "Dr. Andy, 20 years ago, companies like Motorola were facing lawsuits due to health effects of lithium-ion batteries in phones close to the human head. Is there any concern about sitting on almost 7,000 of those batteries that are essential to an electric
vehicle?" I asked.
---
"Only time can give you that answer," he replied with a shrug and a laugh.
---
The workshop was a success, and Get Biofuel's partnership with UTI grew even stronger in 2021 when POET and H2O Innovation partnered to donate hand sanitizer to all 13 of its campuses. We are now also expanding the workshops to reach the entire UTI network and establish Get Biofuel brand at all campuses.
---
Greg Madden, Chief Strategy Officer at H2O Innovation, views education as key part of our toolbox as well. "We were excited to be part of the effort to provide POET's high-quality hand sanitizer for the UTI schools, and we're very excited about the growing partnership with Get Biofuel. We hope that it will help advance the conversation with auto mechanics, some of the best primary sources to spread the word about the benefits of bioethanol."
---
There is still a lot of work to be done on the biofuels education front, but in the meantime, we'll keep doing what we can to hammer it home.
---