---
We know a lot of you who are reading VITAL are farmers, were farmers, or have a general interest in what's happening on the farm. So in 2015, VITAL will feature two of America's most well-known and respected farming experts. Not only are Darren and Brian Hefty successful farmers and agronomists, but they also host the popular television and radio show Ag PhD. Their programs help farmers take their operation from Good to Great by sharing information ranging from how to maximize your fertilizer program & tiling to stopping those yield-robbing insects and crop diseases and more. If you'd like to learn where you can watch or listen to Ag PhD, you can find the listings at agphd.com.
---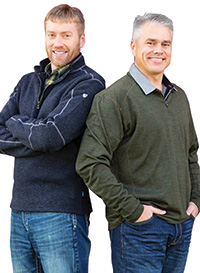 ---
Where can I cut costs on the farm in 2015?
---
If you're asking yourself where you can cut costs on the farm this year, you're not alone. This is definitely one of the top questions I've been getting across the country this year. The economics of farming in 2015 are not as rosy as they've been for a while, but they certainly aren't dire. Here's some advice my dad has given about how farmers who have been successful coming through tough times in the past have done it. "Don't cut the things that are making you money."
---
This is good advice for any business at any time. It absolutely applies to farming today. You simply need to look at your farm as a business and each time you write a check look at that purchase as an "investment" rather than an "expense."
---
SEED CORN
---
"Should I save money on seed corn by purchasing a lower-priced hybrid without all the traits?"
Let's say you have a choice between Hybrid A, the $300 per bag SmartStax hybrid you planted last year, and Hybrid B, a $200 per bag hybrid with no insect protection traits. If you're planting at 32,000 population, a bag of corn covers 2.5 acres.
---
Hybrid A $120 per acre seed investment
---
Hybrid B $80 per acre seed investment
---
That's a $40 per acre savings up front, but don't forget the rest of the story. If you need to use insecticide to protect your seed from corn rootworms, depending on the product you choose you will have to invest another $10 to $20 per acre plus you won't get quite as high a level of control. Also, you may have to spend another $10 per acre for an aerial application of corn borer protection.
---
If corn is $4/bushel, you would need Hybrid A to yield at least 5 bushels better to justify the added investment. Most farmers like to see a 2 to 1 return on any investment, so in that case you'd like to see 10 added bushels of yield to justify the extra investment on seed corn. Last year many farmers ran the pencil on that same investment and used $6 corn which made it look like a no-brainer to go with Hybrid A. My point here is that you need to run the pencil on each investment you make, and the economics may have changed considerably from last year.
---
FERTILIZER
---
The investment you need to learn more about is fertilizer. Chances are, next to cash rent, this is your biggest expense (investment) you choose to make each year. Have you pulled good soil samples this year to give you an accurate picture of the nutrient needs in your fields? Can you read your own soil test? Can you make your own fertilizer recommendation for your farm and feel confident it's the right amount of nutrition to achieve your yield and profitability goals? Where can you cut in your fertilizer program? If you need help with one or more of these questions, find it between now and planting season. It not only will benefit your farm this year but for the rest of your farming career.
---
This year, we grid soil sampled our entire farm. We don't do that every year, but it was important to our farm to justify each fertilizer investment we made this year. Our goal is to keep our cost per bushel as low as possible by balancing the fertilizer in our soils thereby raising higher yields. Don't make the mistake of just going by last year's fertilizer recommendation and doing basically the same thing this year. Here's an example.
If you're getting 200 bushel corn yields but are short on available potassium, it doesn't do you any good adding more nitrogen shooting for 210 bushels this year. Rather than spending more money on nitrogen, invest the same money on potassium to address your yield limiting factor. This is where being about to pull and read your own soil samples really pays off.
---
SUMMARY
---
The biggest thing I have been talking with farmers about this winter has been to make sure you get your seed off to a great start. Don't give up on starter fertilizer or Headline in-furrow that help your corn get off to a fast start.
---
Remember that if a corn plant is healthy and happy, other stresses that pop up during the growing season are less likely to cause significant yield loss.
---
Are there things that should be cut? Sure, there always are. Just run a Return on Investment calculation for each crop input for your farm.
AgPhd.com - Information for Agriculture
---