---
Ask POET Bioprocessing – Fairbank General Manager Bryon Wilson what he likes best about his job at the Iowa facility, and he doesn't have to think long.
---
"There's an old saying that you go to work because of the people you work with," he says. "That's definitely the case here. I feel I have a good relationship with the Fairbank team, which includes a lot of tenured employees. It's kind of like having a second family."
---
Wilson's worked with many of his "second family" for years. He grew up seven miles from where the plant stands and came to work there as an operator right out of high school. Over time, hard work and a knack for leadership helped him work his way up to the general manager's chair.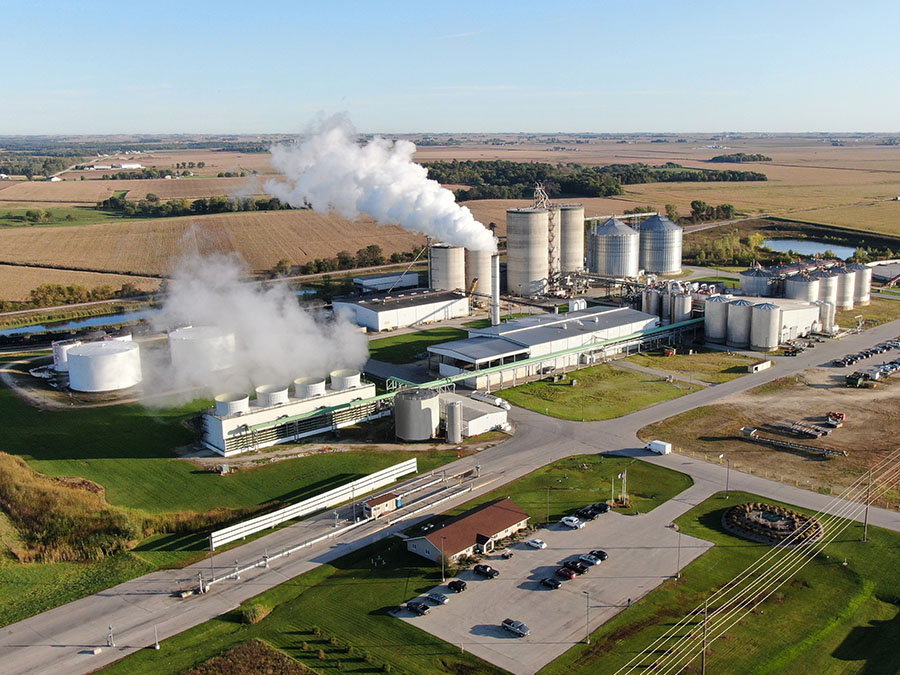 ---
And while Wilson's relationship with the facility goes back several years, the plant's history began two owners ago. Originally constructed in 2006 as Hawkeye Renewables, the plant was purchased by Flint Hills Resources (FHR) in 2011. Then, on June 1, 2021, the Fairbank facility was one of six FHR plants acquired by POET, which recognized the excellent quality of those plants and felt they would fit nicely with POET's existing portfolio of facilities.
---
At an annual production rate of 125 to 130 million gallons of bioethanol, the Fairbank facility is one of the largest in the POET family and currently employs 53 people. During the ownership transition, there was no shutting down, no retrofitting, nor any work stoppage whatsoever. And while the ownership transition took place with no hitches in production, Wilson says there initially was some uncertainty among the team members about what being acquired by POET might entail.
---
"Within a short time, the POET leadership team came onsite and did a pretty darn good job of providing us with clarity and comfort," he says. "They told us, 'We understand that these plants run the way they do because of the people they have, and we want to continue that mindset.' That really felt good to hear that."
---
A strong and diverse culture
---
Wilson says the blessing of having capable and tenured team members gives the plant a couple of distinct competitive advantages.
---
"The POET culture says that we want our team members to be 'principled entrepreneurs,'" he says. "If we have that — and I believe we do — it gives us a competitive advantage.
---
"Also, we generally have a pretty diverse group here, people who come from all different kinds of careers," Wilson says. "We have engineers, we have farmers and people from many other backgrounds," he says. "Having all those different kinds of backgrounds and experiences creates a richer blend of perspectives on how to approach different problems. At the end of the day, that helps drive a better decision, which gives us another competitive advantage."
---
Wilson says that the quality of the plant team's strong work ethic and focused teamwork manifests itself in tangible ways.
---
For example, at a recent annual POET plant audit — which stringently grades safety, culture, environmental health, housekeeping, the appearance of equipment, cobwebs, combustible dust, and more — the plant passed with flying colors and won the prestigious POET "World Class Bio" award.
---
Wilson also takes pride in the fact that POET has been a leader in areas like reducing carbon intensity and reducing the plant's carbon footprint, saying that POET has been focused on these factors since day one and has always been ahead of the curve.
---
POET Bioprocessing – Fairbank also strives to be a good neighbor, participating in county fairs and other community events. But one segment of the community especially near to POET's heart is agriculture.
---
"Our partners out in the field are very important to us," Wilson says. "They help us maintain this renewable resource while we try to provide them with a competitive place to deliver their grain. We want them to be successful so we can be successful."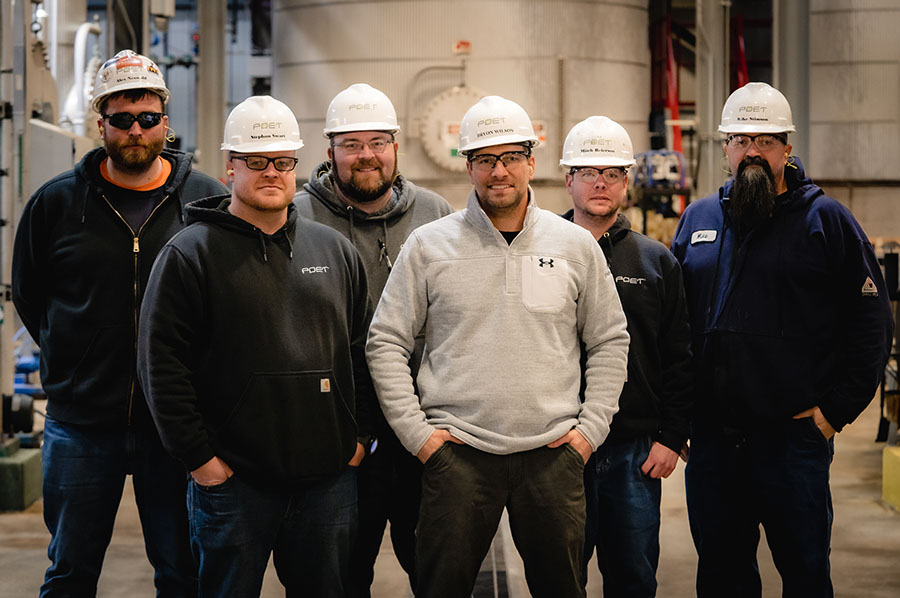 ---
Alex Neswold: Up for a challenge
---
In his position as a Shift Supervisor, Alex Neswold enjoys a number of aspects of his job.
---
"I enjoy the variety," he says. "You have good days and bad, but every day is a little bit different. For me, it's fun to try to troubleshoot the more challenging issues when something goes wrong. Or trying to optimize things to get just a little bit more out of it."
---
He also enjoys his fellow teammates.
---
"This is a great team — very seasoned. We have good camaraderie, which makes it fun to come to work with people you get along with and can joke around with."
---
Off the job, Neswold and his wife Nicole enjoy doing activities with their two young children, Scout, 4, and Max, 3.
---
"We enjoy camping in the summer, taking the kids swimming, and I like playing golf," he says. "We just like being outdoors."
---
Mitch Reierson: A team player
---
As a young man, Mitch Reierson had a passion for farming and loved milking cows on his uncle's farm. Then he came to work at the Fairbank facility just out of high school in 2006, during the "bioethanol boom." He has experienced a lot and seen many changes during his time at the plant and takes a great deal of pride in his work.
---
"I truly like working here," he says. "I'm proud of the fact that the Fairbank plant has always had a reputation for being a strong and consistent performer, and it feels good to have been a part of that. We have a lot of team members who've been here for many years, and you develop relationships. I couldn't imagine working anyplace else."
---
But probably the thing Reierson enjoys most about his job as a plant tech is helping new team members as they get started.
---
"I've been here a long time, seen a lot of things, and get enjoyment out of being able to share my knowledge with new team members," he says. "I get a lot of satisfaction out of teaching them and helping them learn the best way to do their jobs."
---
When not helping new people at work, Reierson still likes to get his "farming fix." He and his wife, Christine, bought his grandpa's farm seven years ago and love spending time there.
---
"There's timber, pasture, and we've made a bunch of four-wheeler trails," he says. "I love to hunt deer there too."
---
Micheal Stimson: There from the start
---
Even before there was a bioethanol plant in Fairbank, Mike Stimson was there.
---
"When I started, they were still building the plant," he recalls. "There weren't even any paved roads here yet."
---
Starting as a maintenance tech, he worked up to his present position, Maintenance Manager. These days, when this very busy husband, father of five, and grandfather of two isn't keeping up with his kids' and grandkids' lives, he oversees the reliability of the Fairbank facility with the help of several other groups. Stimson says things have come a long way in his sixteen years.
---
"That was the start of the bioethanol business, and reliability programs were pretty lax back then, definitely more reactive," he says. "But with the ownerships that followed, a 'big flip' occurred, and especially with POET, we're doing a much better job now."
---
Stimson says a contractor recently asked him what he thought of POET taking over.
---
"I said, of the three companies that have owned this facility, POET is my favorite, even after just a few months. We've got great leadership and strong operations teams who've been around for a while. There's a real family atmosphere. I enjoy working here; it's been a very good thing."
---