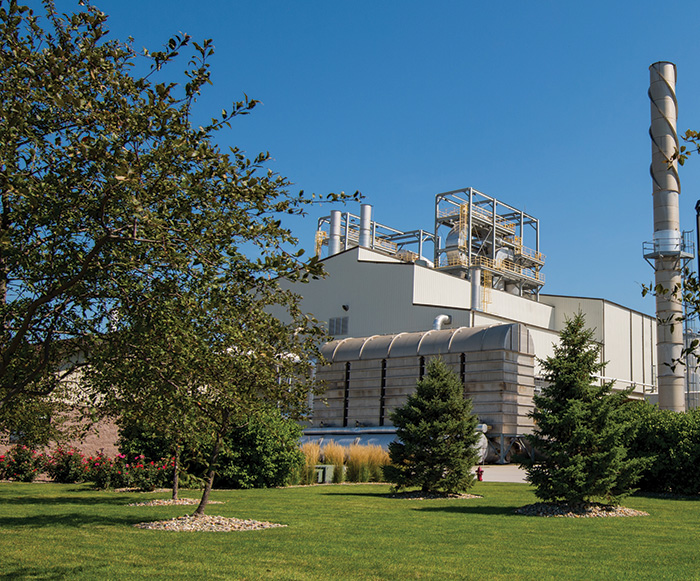 ---
It's a fact. Most ethanol plants – because they're located in good corn country – are located on pretty flat ground and can be seen for miles. But not the one in Corning, Iowa.
---
"This is one of the few plants that can't be seen from the road because we're hidden by the hills," says POET Biorefining – Corning General Manager Greg Olsen. "But this is a beautiful area here, it's very picturesque."
---
And although nearly all ethanol plants are located in rural areas, it doesn't get much more rural than Adams County, Iowa, population 4,029. Corning, the county seat and the birthplace of Tonight Show icon Johnny Carson, only has about 1,600 residents.
---
The plant, POET's twentieth and its seventh in Iowa, opened in May of 2007 and produces 65 million gallons of ethanol per year from 23 million bushels of local corn. And while essentially all of Iowa is great corn country, Adams County – because of its pretty terrain – doesn't produce quite as much as much as its neighboring counties.
---
"Our draw area is a little bigger than most," says Olsen.
---
That's not all that's unique about the Corning plant. It accesses 40 percent of its water supply from the city's wastewater treatment plant, providing a significant savings for the city of Corning. (The purified water is used for the plant's cooling towers only, however – it never comes in contact with any of the actual ethanol manufacturing process). The rest of the water is drawn from two local lakes, making the plant one of the few that doesn't utilize wells.
---
Great Teamwork
---
Olsen became Corning's GM just a couple of months before it opened, and had the luxury of being able to hire all of his own people. He recalls that there weren't many people with ethanol experience at the time, but rather he was looking for people who fit the culture he was trying to build. It appears he got it right.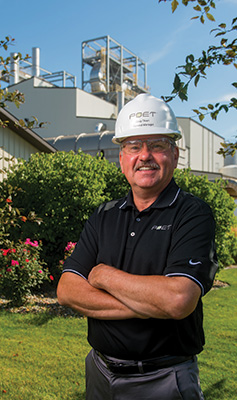 ---
"I've always wanted this to be a plant that farmers and customers want to come to, with customer service that makes them want to come back," says Olsen, who gives all of the credit to his employees. "I really can't say enough about the amazing group of people we have here at this plant, how they're driven, friendly, have a great work ethic, and have come together so well as a team. They make my job a lot easier."
---
That teamwork has resulted in a plant that's established an outstanding track record for being efficient, attractive, profitable, and safe. Over the years the plant has received numerous railroad safety awards, and last year were tops in POET's annual Operations Compliance Review and Environmental Health and Safety Review, which measures a number of key performance factors. The plant and its employees have also been a positive addition to the Corning and Adams County communities.
---
"Besides providing good jobs, the plant has been very, very involved in the community," says Ouida Wyman, Executive Director of the Adams County Chamber of Commerce. "They are always there when we need something, always giving back to the community, and many times we don't even have to ask. I've never heard one negative thing about them. They're awesome!"
---
IT'S MY THING
---
POET Biorefining – Corning GM Greg Olsen says the plant always looks great, and gives much of the credit for setting the tone for the plant's tiptop appearance to Maintenance Manager Jeff Butler.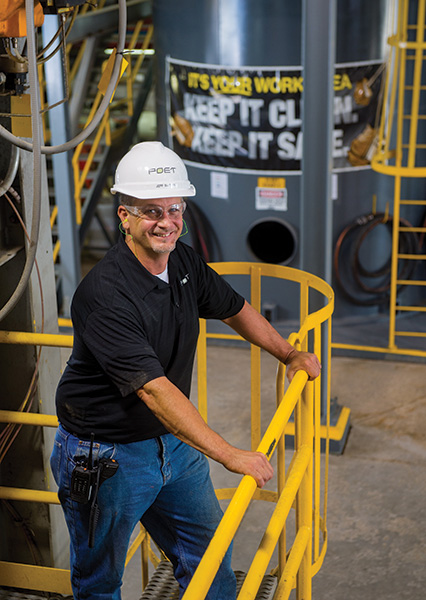 ---
"I come into work thinking I want this plant to look like a retail store," says Butler. "There are so many benefits people get out of a clean plant, like safety, for example. When things are dirty, it covers up important warning signs on the equipment. I can't remember the last time we had an accident around here."
---
Butler lists other benefits of keeping his plant clean, including improved pride and morale, establishing a business-like atmosphere, fostering good work habits, and even better production.
---
"To me, I believe having a clean plant is the key to everything," he says. "I enjoy seeing the smiles on people's faces when they come to work and everything's perfect. It's just my thing."
---
The transplanted Michigander also says he's found the good life in rural Iowa.
---
"It's like going back to Mayberry," he says.
---
SUPPOSED TO BE HERE
---
POET Biorefining – Corning Grain Buyer Polly Sproles loves working at the plant, and believes her being there is a "God thing."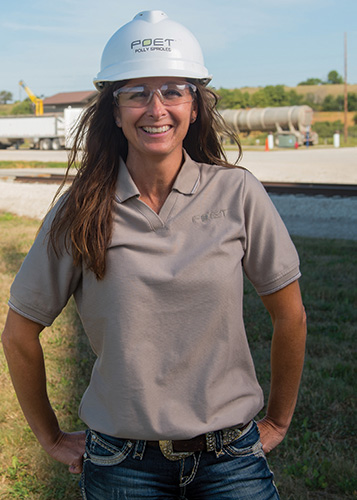 ---
"When the plant was being built, I used to drive by there about every day and found myself just being drawn to it," she recalls. "I didn't know why, it was really kind of strange."
---
Finally a family member encouraged the stay-a-thome mom to apply for a position if she really felt that strongly. So she did. By then it was the last day to turn in applications, and the plant still needed a weigh master. In her interview Sproles, who has an outgoing and friendly nature, was told they were looking for a "nice person" to fill the slot. She got the job.
---
After six years as weigh master, Sproles switched to being a grain buyer. In both positions, she says she loves talking with farmers, truck drivers, and other customers.
---
"Everything came together like I believe it was supposed to," says Sproles, who likes to spend time with her two, now college-age daughters and relax with horses off the job. "That's why I'm here, and feel this is where I belong."
---
KENYA TRIP WAS EYE OPENER
---
When POET opened up the opportunity for any plant employee to go on a recent mission trip to Kenya, Corning's Lab Technician Connie Hancock stepped up.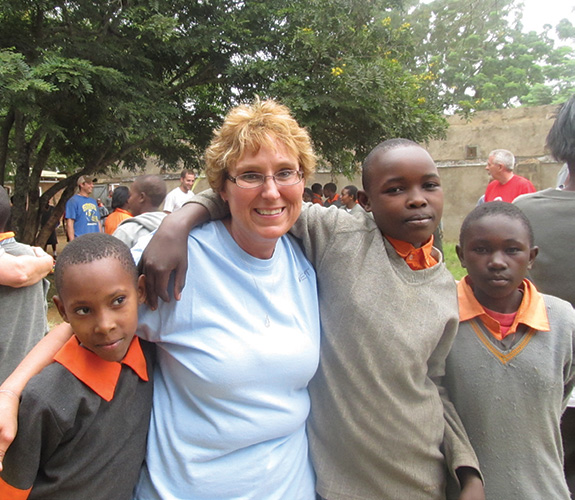 ---
"It sounded to me like a chance of a lifetime, to be able to see another part of the world and have a great experience," says Hancock. "I also wanted to help some other people."
---
But before traveling, mission trip team members had to come up with the funds to make the trip. Hancock's fellow employees held a silent auction and passed a donation sheet to raise money. In all, they raised more than $2,800, which covered most of Hancock's trip expenses.
---
So Connie and 17 fellow POET employees and family members made the long trip to help build a greenhouse for an all-girls school in Sultan Hamud, Kenya. Hancock is glad she signed up.
---
"It was very eye-opening, very humbling" says the grandmother of two (soon to be three). "It was very different, and really makes you appreciate all that we have here in the States. It was something I'll never forget. I really appreciate my fellow team members for helping to make it possible."
---