---
So let's start at the beginning. To produce corn ethanol, we need… corn. You guessed it. 500 million bushels of corn are needed to produce the 1.6 billion gallons of ethanol that POET blends into the fuel supply every year. That's nearly 4 percent of the U.S. corn crop and enough corn to fill the Dallas Cowboys Stadium six times over.
---
The task of procuring those 500 million bushels falls on the shoulders of the commodities team at the POET's 27 biorefineries. This may seem a daunting task to some, but the commodities team at POET is some of the best in the industry. And they take this in stride.
---
The commodities team is the face and the personality of POET. They are your friends and neighbors. And they like to get a little flack for their most recent radio ads. You thought that voice was familiar, didn't you?
---
The commodities team includes commodity managers, supervisors and assistants as well as grain buyers and scale masters. Each has their own responsibilities and challenges. Though, you might think POET's commodity team would have a single focus – buying corn – it's much more than that.
---
The commodity managers will tell you it's not about buying corn. It's about building relationships.
---
"The farmers are our bread and butter," says Emore Ronken, Commodity Manager at POET Biorefining – Preston, Minn. "The farmers know that what we say is what we do. We don't have gimmicks. We're straight shooters. That's what you need to be in this job."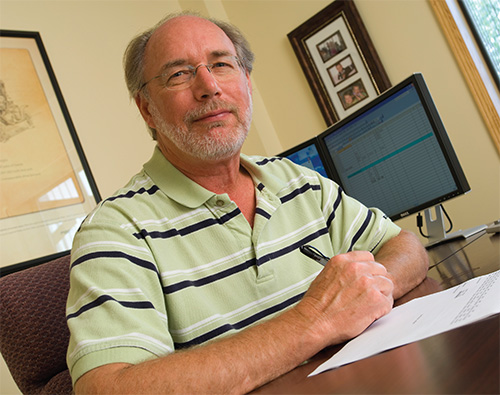 ---
And it's not just a few dozen farmers or even a few hundred farmers. The commodities team across all POET locations signs contracts and builds relationships with over 20,000 farmers. These farmers need to trust that each commodities team member they interact with is truthful and giving them their best possible deal.
---
And POET, says Ronken, sets the tone.
---
"Farmers know if they want to haul corn today, we'll be here," says Ronken, who worked in the grain elevator business for 20-plus years before joining POET in 1998.
---
Ronken's typical day starts as soon as he wakes up and checks the markets and calls his brokers. Once in the plant, he holds an early-morning meeting with his commodity team to focus on the day ahead, the week ahead, and long-term projects.
---
The first delivery trucks – more than 300 on a fall harvest day – are already beginning to line up. And the phone calls – from farmers checking purchase prices and looking for market predictions and negotiating delivery contracts – are just beginning.
---
Ronken, like other commodity managers, spends part of his day keeping an eye on the Chicago Board of Trade. "I monitor that continuously during the day and two or three times a night," he says.
---
Another important aspect is determining corn prices. "We're always looking at the plant's corn needs versus inventory and researching the different market usage in this area."
---
He completes dozens – maybe hundreds – of transactions per day. He also oversees inventory levels for the plant's other products – ethanol, dried distillers grains, CO2, and corn oil.
---
"You never know what you're going to get on any given day," says Commodity Manager Linda Schroepfer, who has worked at the Lake Crystal, Minn. plant for eight years. "But you know what? That's the best part of the job. The fun is learning all of your customers' personalities and how to deal with them – which ones you can give grief to and which ones are all business. The day could bring anything."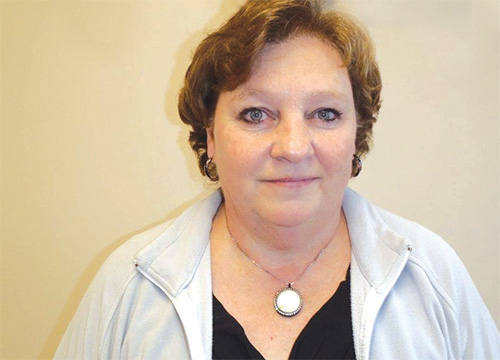 ---
It was one of those "bring anything" days that, in 1997, led to Schroepfer's career as a commodity manager.
---
"I was doing accounting work for Christensen Farms in Minnesota and they let their grain buyer go," says Schroepfer, who grew up on a family farm in Minnesota. "My boss told me they'd already hired the new buyer and I said 'Who is he?' and he said 'It's a she.' I thought that was strange, since you don't hear of many female grain buyers. I said 'Who is she?' My boss said 'I'm looking at her.'"
---
Today, Schroepfer oversees a plant with annual numbers that mirror the average POET biorefinery – 20 million bushels in; nearly 60 million gallons of ethanol out.
---
"On a day to day basis, I really try to work on being a coach and mentor to our team members," she says. "Sure, we're commodity managers, but a typical day for me means being a people manager."
---
Schroepfer says she talks to POET's other commodity managers on a weekly basis. "We're always sending ideas past each other," she says. "When I was looking at buying a new moisture tester, I sent out an email to the commodities group asking what they'd purchased and how they'd liked it. The team feedback is amazing."
---
Mike Knueven, a "farm kid with ag in [his] blood," took over as commodity manager for POET's plant in his hometown of Leipsic, Ohio in 2007.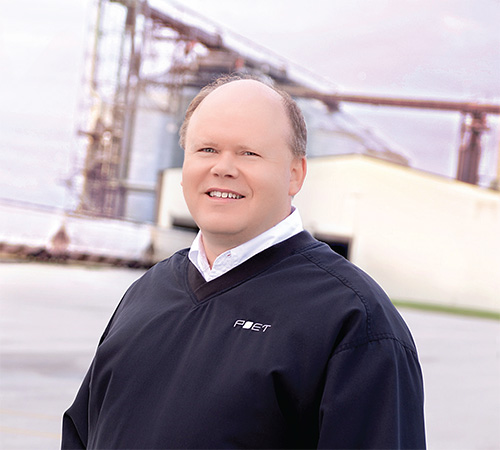 ---
"We're not just improving things at the local level," he says. "We're doing something that can change the world, one bushel of corn, one gallon of ethanol, one ton of feed at a time."
---
While Knueven points to the technical aspects of a typical day – things like the checking and balancing of the grain position and the output of the plant processes – he says communication is a key component.
---
"We're constantly communicating with customers and team members and with POET Risk Management, POET Nutrition and POET Ethanol Products," he says. "The key is building trust and getting to know people, and we do that. We hold customer appreciation events, everything from firing up the grill at harvest to attending a Toledo Mud Hens baseball game."
---
Matt Gerhold, Commodity Manager at POET's Macon, Mo. plant, says he's "had corn on the brain for 22 years."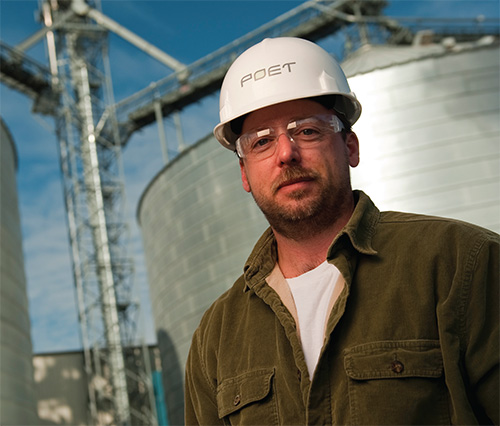 ---
After 10 years with Archer Daniels Midland, Gerhold took over as Commodity Manager for POET in 2001 in a move that brought him close to the crop and cattle farm where he grew up.
---
For Gerhold, no day is typical. "We deal with 500 farms, but as far as people – landlords, brothers, uncles, drivers – we have 1,200 customers," he says. "You can't get typical when you're dealing with that many personalities."
---
Gerhold's Mo. location, in itself, is atypical by POET's standards. Without the centralized, large-scale corn-growing found near POET's other biorefineries, Gerhold's team buys corn from farmers up to 100 miles away, twice the reach of most POET plants.
---
The commodity team, says Gerhold, personifies one of POET's mottos: embrace change.
---
"There's something new here every day – a new thought or a new piece of equipment or a new process," he says. "You're going to get change whether you like it or not, so you may as well be in on the process. You have to be able to deal with the days where you have to go above and beyond." For the team, even those "above and beyond" days are taken in stride.
---
Mike Knueven tells the story about plant members from all departments forming a mid-December bucket brigade to remove old bricks, and haul in new ones, from a Regenerative Thermal Oxidizer. "Take a brick and pass it down. Everyone chipped in. That's what we do here."
---
While Gerhold says his job entails everything from walking the plant to "covering the scale when the scale man can't," the one daily constant he embraces most is the art-meets-science of predicting market direction.
---
"If we can help our corn customers get more money through good marketing decisions, we've taken the money from Chicago speculators and put it in the farmer's pocket," he says.
---
For Ronken, change is the one constant for commodity managers.
---
"I was here when we finished building the plant in 1998," he says. "We started out producing 12 million gallons per year and now we do 46 million gallons. The technology has advanced so much. In some ways, what we did 16 years ago is totally different than what we do today."
---
In some ways, though, not much has changed.
---
"For all of the new technology, it's still about building those relationships with farmers," says Schroepfer. "Tomorrow, when those phones start ringing and those trucks start arriving, we all know that it comes down to trust and respect. And we treat everyone who comes in with that respect. No matter how big or small the operation, those farmers know that every bushel we buy is as important as the next."
---
What the POET Commodity Teams Do:
---
It's a big job to make sure each plant has enough corn to keep the plant running 24 hours a day 365 days a year. To determine the area's market price, the team must be proficient in local market's supply and demand by working with local farmers to understand the size of the farms and their storage. They also must evaluate the surrounding local grain elevators to determine how much they buy and store throughout the year.
---
Who's on a typical Commodity team?
---
Commodity Manager
Commodity Supervisor
Commodity Assistants
Senior Grain Buyers
Grain Buyers
Scale Master
---
Fast Facts:
---
POET buys grain from over 15,000 farmers.
---
POET enters into over 80,000 grain buying contracts per year.
---
About 600,000 semi loads of grain are delivered to POET plants each year.
---
That's about 100 truckloads of grain per plant each and every weekday.
---
Meet the Commodities Team at POET
---
POET Biorefining – Alexandria
---
Chad Breedlove
Christopher Dent
Brandon Farley
Kimberly Hiatt
Brandon LaShure
William Musick
Wayne Speicher
Dean Thurston
---
POET Biorefining – Ashton
---
Terry Cooper
Brian Meyer
Travis Monier
Nancy Nasers
Ty Pranger
---
POET Biorefining – Big Stone
---
Roger Findlay
Julie Fritz
Twila Homan
Dale Klemm
Richard Maatz
Steven Nelson
Gregory Nelson
Roger Tietjen
Justin Wittnebel
---
POET Biorefining – Bingham Lake
---
Steven Johnson
Darren Kalvig
Blaine Larson
Jason Lohrenz
Gary Soleta
---
POET Biorefining – Caro
---
Keith Baur
Todd Bliss
Harlan Browne
David Good
Adam Kessler
John Opperman
Michael Osborn Jr
Louis Wenzlaff
---
POET Biorefining – Chancellor
---
Donald Adams
Jennifer Bertrand
James Brandsrud
Wesley Harms
Tara Hazel
Thomas Ireland
Joel Kanable
Preston Nordman
Troy Nordman
Steven Norvell
Jon Proehl
Elden Tunheim
---
POET Biorefining – Cloverdale
---
Brian Allen
Devan Buis
Patrick Gamble
James Holderfield
David Kean
Michelle Mccammack
Derek Rossok
Mark Sillery
Paul Smith
Brady Stockwell
John Whitkanack
---
POET Biorefining – Coon Rapids
---
Jeff Andersen
Roger Baker
Elijah Boyd
Thomas Cleveland
Jason Goodwin
Michael Nees
Mark Olson
Michelle Young
---
POET Biorefining – Corning
---
Shawn Cooper
Mark Elwood
Jack Myers
Clinton O'Riley
Polly Sproles
Cindy Wall
David Wilson
Daniel Wood
---
POET Biorefining – Emmetsburg
---
Karen Auten
Eric Bruhn
Ryan Grange
Ryan Jergens
LaKrecia Johnson
Patricia Kiepe
Ron Ludwig
Randall Pelzer
Jason Raveling
Darrel Ruppert
BJ Schany
Joseph Strohman
Todd Thompson
Zachery Treiber
Jonathan Westfall
Lee Wojahn
---
POET Biorefining – Fostoria
---
John Harpster
Barry Hoffman
Joezette Kloepfer
Todd Kromer
Thomas Marks
Bradley Pope
Zeppelin Schindorff
Phyllis Willard
---
POET Biorefining – Glenville
---
Russell Benson
Ryan Goodman
Rodney Holecek
Richard Sande
---
POET Biorefining – Gowrie
---
William Bluml
Ryan Carlson
Mark Kiefer
Kenneth Kopecky
Jennifer Rasmussen
Julie Roberts
Jeffrey Sievers
Edward Stewart
---
POET Biorefining – Groton
---
Jon Anderson
Jennifer Dirks
Rocky Hinman
Jesse Huber
Derek Kiefer
Vicky Smith
Gordon Weideman
---
POET Biorefining – Hanlontown
---
Dennis Baker
Bryan Clark
Kyle McLaughlin
Dennis Nicholson
Jorgen Paulsen
Joseph Rowe
Matthew Sauer
---
POET Biorefining – Hudson
---
Jeffrey Hansen
Douglas Haverhals
Russ Hazel
Amanda Homandberg
Clifford Huot
Jesse Jolin
Robert Scroggs
Aaron Underwood
---
POET Biorefining – Jewell
---
Stacey Bartels
Robert Brown
Justin Easterday
Jordan Ganeff
Mitchell McGonigal
Kelli Nevenhoven
---
POET Biorefining – Laddonia
---
Bradley Callison
Aaron Heim
Rachel Jurgesmeyer
Clint Kendrick
Joshua Moll
David Rinehart
---
POET Biorefining – Lake Crystal
---
Curtis Ekstrom
Michael Felber
Kip Hanson
Ryan Powell
Linda Schroepfer
Calvin Tate
Rick Wellmann
---
POET Biorefining – Leipsic
---
Scott Bishop
Brad Ellerbrock
Lorraine Heitmeyer
Daniel Karhoff
Michael Knueven
Jason Rue
Aaron Tussing
Roger Wenzinger
---
POET Biorefining – Macon
---
William Anderson
Jason Basler
Lloyd Bowen
Nick Cox
Matt Gerhold
Tracy Roberts
Phillip Robidoux
---
POET Biorefining – Marion
---
Cory Cramer
Jerry Leydens
Duane Mccombs
Don Niles
Karen Parker
Don Sayre
Kayla Sharp
---
POET Biorefining – Mitchell
---
Robert Braun
Marcia Eidahl
Todd Freudenthal
Matthew Johnson
Austin Koehn
Ryan Kuper
Jack Sorenson
Miranda Synhorst
---
POET Biorefining – North Manchester
---
Julie Bridgman
Matthew Elvidge
Steve Freshour
Jacob McCoy
Joshua Parker
Kenneth Parrent
Billy Sluss
Dawn Straka
---
POET Biorefining – Portland
---
Cliffton Guingrich
Brock Hambrock
Aaron Kuhn
Brian LeMaster
Audrey Muhlenkamp
Dawn Rodgers
Todd Thornburg
---
POET Biorefinig – Preston
---
Michael Graner
Tyler Knutson
Lance Mensink
Loren Ronken
Peter Solum
---
POET Research Center
---
Jason Conrad
Ryan Kocourek
Jim Miller
Toby Remmers
---