---
Conventional wisdom has it that luck is when preparation meets opportunity. If that's true, POET Biorefining – Chancellor is arguably a pretty fortunate place.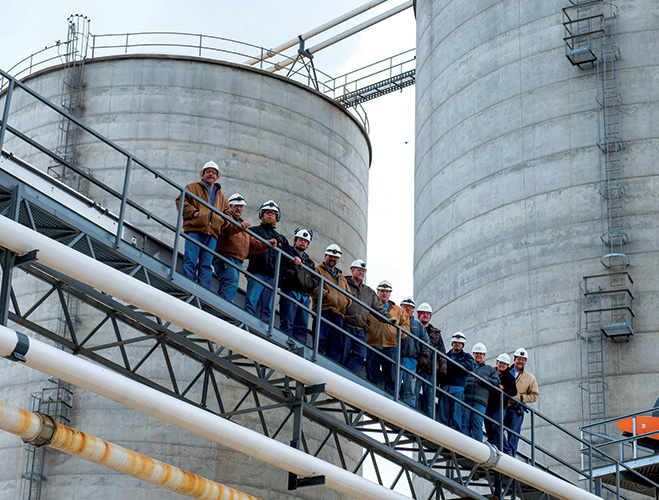 ---
It began back in the middle of the last decade. POET's plant at Chancellor had opened in 2003 as a 45 million gallon per year facility, but good profits and untapped potential in the heart of southeast South Dakota's rich, rolling, dryland corn country led the plant's board to think about doubling the capacity of the facility. But natural gas prices were sky high, and POET was looking for ways to cut fuel costs.
---
"About 2005, they came across this idea of building a solid fuel boiler fueled by waste wood chips from locally recycled pallets," says Dean Frederickson, POET Biorefining – Chancellor General Manager. "And the Sioux Falls Landfill was looking for a market for their landfill biogas. So all the parties penciled it out, it made a lot of economic sense, and here we are."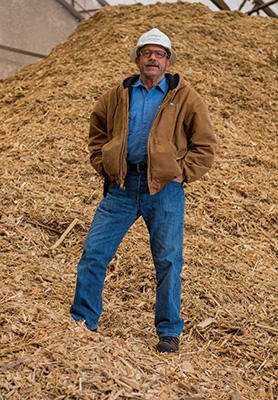 ---
After a period of planning, negotiations, and construction, the plant expansion was completed in March of 2008. Soon after, the boiler for the wood chips was completed. Then in April of 2008, POET and the landfill signed an agreement to build an eleven-mile pipeline between the two entities to replace some of the plant's natural gas usage with biogas (primarily methane) from decomposing trash in the landfill.
---
Today the plant in Chancellor, POET's largest, annually produces 110 million gallons of ethanol and 145,000 tons of Dakota Gold® distillers grains, produced from 35 million bushels of locally-sourced corn. The biogas from the landfill plus 300 tons of wood chips per day – which are purchased from the landfill and a number of other area suppliers – supply half of the plant's fuel needs.
---
Producing Energy from Garbage, Storm Damage, Christmas Trees
---
As part of a company that prides itself on being a sustainable producer, POET Biorefining – Chancellor has all the features that allow other POET plants to have the smallest possible environmental footprint – its patented BPX (non-cooking) technology, Total Water Recovery, and other proprietary technologies – but it has also capitalized on the natural advantages available to it.
---
In addition to wood chips from recycled pallets, the plant also uses waste wood from other sources, including trees downed by storm damage. From an ice storm last spring, the plant has already purchased wood chips from 40,000 tons of recycled trees. Even recycled Christmas trees help fire the plant's boiler.
---
All of this not only helps POET Biorefining – Chancellor run exceptionally friendly to the environment, but also is a considerable advantage to the Sioux Falls Landfill, which otherwise would be burning or discharging the gas into the atmosphere, and burying huge amounts of waste wood.
---
"It's been a great relationship, truly a win-win on for both sides," says Dave McElroy, Landfill Superintendent.
---
Frederickson says that the sustainable measures employed by the plant also contribute to its economic sustainability, from both lower costs and increased demand.
---
"Even with the lowest natural gas prices in years, we're still coming out ahead by burning wood and landfill gas, and when the natural gas price goes back up, we'll do even better," he says. "And because we have a lower carbon intensity, we also get preferential treatment and a premium for our ethanol in the California market, which gives us another advantage in profitability."
---
Frederickson adds, however, that all the plant's sustainability measures would go for naught without the can-do attitude of its dedicated work force.
---
"Because of the drought in 2012, we had a terrible corn crop around here, and the only way we could originate enough corn was from 100-car unit trains," he recalls. "The whole team pitched in, and we unloaded a total of 5 million bushels from 12 trains. Each time, all 100 cars had to be unloaded in 24 hours. We are the only plant to ever do anything like that."
---
CONSERVATIVE ENVIRONMENTALIST
---
POET Biorefining – Chancellor Technical Manager Rachel Kloos grew up in California, and for as long as she can remember, she's been interested in preserving the environment. After earning degrees in environmental engineering and chemistry, she eventually found her way to Sioux Falls.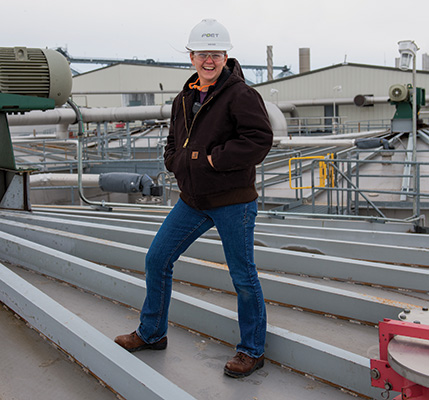 ---
"I consider myself a 'conservative environmentalist,'" she says. "I truly believe in environmentalism, sustainability, and reduction, but I also believe it has to make good business sense. That's why I love working here. It's cool to be part of a truly synergistic process here in the greater Sioux Falls area. I'm proud of what we do, it's very exciting."
---
Kloos says that making steam from wood chips presents some challenges, and gives a shout out to the workers who make that happen.
---
"Our steam production takes place in a totally separate building, and the guys who work in there aren't that visible, but they are so important," she says. "They really have to know the pulse of the plant, and be able to react to changing conditions. They're a huge part of our energy and efficiency commitments."
---
This busy wife and mother of two young daughters doesn't know what the future holds for her, but hopes that POET's a part of it.
---
PUTTING TRASH TO WORK
---
Most people consider the landfill pretty much the end of the road for their trash. But by working with the POET Biorefining – Chancellor plant to find new ways to recycle the refuse, Sioux Falls Landfill Superintendent Dave McElroy has learned that real possibilities lie hidden in that waste.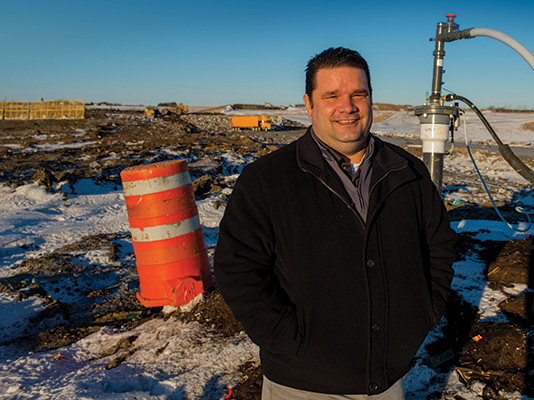 ---
"Since we completed our pipeline to the plant in early 2009, we've been very happy with the arrangement," says McElroy. "Selling the biogas has created a whole new revenue stream for us, and now makes up 20 percent of our revenue."
---
And there's more. The landfill has added even more revenue by purchasing a grinder to process waste wood for sale to the plant as wood chips. (This grinder is also used to grind corn stover for cellulosic ethanol production at POET's Project Liberty at Emmetsburg, Iowa). Besides creating revenue, these enterprises add some considerable environmental benefits. "From that storm last April, we received 50,000 tons of debris," says McElroy. "Burying all that would have taken about six months off the life of the landfill."
---
And McElroy says there are even more opportunities in the works. Between POET's business and FEMA grants, the landfill plans to spend more than $3 million to build a recycling facility to capture additional opportunities from even more waste wood.
---
"We figure that will add an additional 12 to 20 employees to our workforce," he says.
---