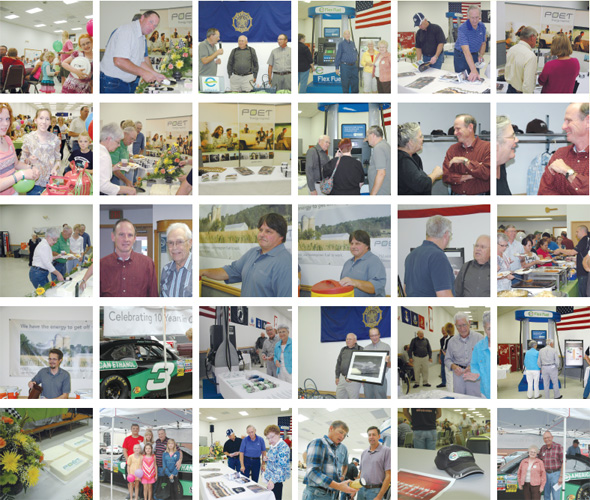 ---
In the late 1990s, Manning, Iowa banker Howard Roe was looking for solutions to a problem.
---
"Farmers around here were getting $1.88 per bushel for their corn and we had unit trains shipping it out to other locations," says Roe, who was then president of the Manning Betterment Foundation. "So we started looking for alternatives that would allow us to add the value ourselves."
---
Soon after, on visits to his daughter and son-in-law in Preston, Minn., Roe observed the construction and successful launch of a Broin ethanol plant there, and decided to contact Jeff Broin, founder of POET, to explore the possibilities. In a scenario that now seems incomprehensible, Broin was less than excited about coming to the most corn-rich state in the nation, because at the time, Iowa lacked incentives that were competitive with its neighboring states. But Roe persisted.
---
"I pestered him long enough that he finally decided to come down," recalls Roe.
---
Broin came to Manning in 1998, and by December Broin and the Manning group decided to move forward together. The Manning group put together a board consisting primarily of farmers from a five-county area, with Manning John Deere dealer Warren Puck as President and Roe as Treasurer. After months of meticulous planning, in February of 2001 they entered into a design-build contract with Broin to construct a 40 million gallon ethanol plant.
---
At that time, ethanol plants were still a tough sell to farmers, but by the end of March, 2001, the group had attracted 440 investors and raised enough capital for majority co-op ownership in the $55 million plant. The plant's board had hoped to locate the plant near Manning, but the lack of an adequate water supply forced them to seek another location. They found a site a few miles east near Coon Rapids, a progressive community of 1,305 residents best known as the home of Garst Seeds and for hosting Soviet premier Nikita Khrushchev on his U.S. tour in 1959.
---
Ground was broken on June 12, 2001, and on August 9, 2002, the plant began grinding corn under the name of Tall Corn Ethanol. At the time, it was the largest dry grind farmer-owned ethanol plant in Iowa, POET's first in Iowa, and the company's 13th overall.
---
POET Biorefining – Coon Rapids Today
---
One decade and several tech upgrades later, POET Biorefining – Coon Rapids has established an enviable record as a smooth-running, safe, successful operation and a good community neighbor. It currently produces a diverse product mix, led by 52 million gallons of ethanol and 145,000 tons of DDGS, produced from 18 million bushels of locally-purchased corn. General Manager Bill Howell gives much of the credit for the plant's success to its work force.
---
"We have some very dedicated, loyal, hard-working folks here, which I believe is one of the advantages of working in the ethanol business," he says. "And since the successful addition of corn oil separation in June, they're even more motivated to get started on future projects."
---
Howell says that he and the board are currently working on a plan for the next five years that hopefully includes the addition of some food-grade products, and possibly cellulosic ethanol. But in August, everyone paused to celebrate the past ten years.
---
"We wanted it to be a community celebration – complete with a cookout, DJ, blending pump, and the race car (NASCAR® No. 3 race car jointly sponsored by POET and American Ethanol)," says Howell. "The board felt like the whole community has been so supportive that it wouldn't be right for it not to be a community event."
---
Roe is now 76 years young, semiretired, and recently received his 50-year pin from the Iowa Bankers Association. Reflecting back, he feels good about his efforts to start an ethanol plant and his work as board treasurer since.
---
"It's been a good experience for the community and everybody that's been affiliated with it," he says. "It's always been one of my goals to try to make things better than what they were. This is definitely one of those projects."
---
Resume Includes Big Oil, Middle East
---
For an ethanol executive, Coon Rapids General Manager Bill Howell has a unique perspective. Prior to coming with POET about a year ago, he had worked with a major oil company for 12 years. Before that, he had served 12 years as an Air Force officer, where he received a medal and commendation from Gen. Norman Schwarzkopf for his work in the Middle East.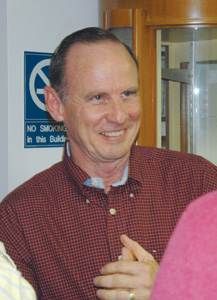 ---
"I worked with a lot of their various cultures and I can tell you that we don't have friends over there," he says. "We really need to be energy independent, which means renewable fuels, not just drilling a bunch more holes in the ground. That's why I'm here. I'm really excited about the potential ethanol and renewable fuels give to our nation."
---
Howell and his wife Katherine have also fallen in love with their new home in Coon Rapids, where they have become active community members.
---
"This has been really refreshing, especially after living in the big cities," he says. "It's kind of like stepping back in time – the people are so friendly, treat each other so well. You don't feel like you have to lock your doors."
---
Off to a Fast Start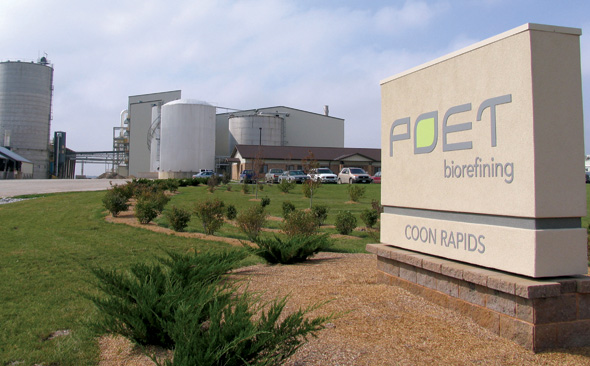 ---
On many a warm summer weekend evening, there's a good chance you'll find POET Biorefining – Coon Rapids Commodity Supervisor Mike Nees competing in the popular figure 8 races at the Carroll County Figure 8 Track.
---
"It's a real adrenaline rush," says Nees. "You just get an old car, take out the windows and beef it up a little. Then you get out there, weave in and out of cars, pass guys, and see if you can keep from getting hit. Depending on how you do, you have the potential to race up to five times in one night and win a little money. It's a lot of fun."
---
Nees typically has some ethanol in his racing fuel for these events.
---
"It's got good power, good get up and go," he says. "It's a very competitive racing fuel."
---
Nees, who is only 23, came to POET two and a half years ago after receiving an associate's degree in ag business from Iowa Lakes Community College in Emmetsburg. After starting as a commodities assistant, he was promoted to supervisor after just a year.
---
When not at his day job, Nees farms with his dad Larry, including raising 1,400 hogs himself. Nees says having the plant at his hometown has been a good thing.
---
"I really enjoy what I do, the atmosphere and the people I work with," he says. "But it's also given me the chance to live close to home and be involved with our family farm. It's been a nice opportunity for me."
---