---
It's not every day you'd expect to see a POET team member on the cover of Iron Man magazine.
---
Brandan Fokken is an international bodybuilder and endorsed athlete who's racked up award after award in the fitness industry. He is also POET's Wellness Coordinator and just so happens to be on the cover of Iron Man magazine's December issue. He runs the Energy Center gym at the corporate office while offering classes, one-on-one training, consults, nutrition advice and more to POET employees.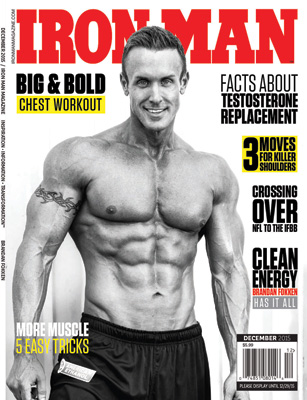 ---
Fokken is a gym rat, to be sure. He works out five to seven days a week. But Fokken is more than his muscles. The 36-year-old Sioux Falls man is a simple guy – someone who would rather eat a quiet dinner at home with his wife than party with celebrities in Las Vegas, someone who wants to inspire rather than intimidate, someone who wants to help people reach their fitness goals.
---
"A lot of people think, 'Oh, he's just going to yell at me, he's going to make me look like him.' But I just want them to be happy and healthy and to do it in a safe way," Fokken says. "My main goal is to help them succeed."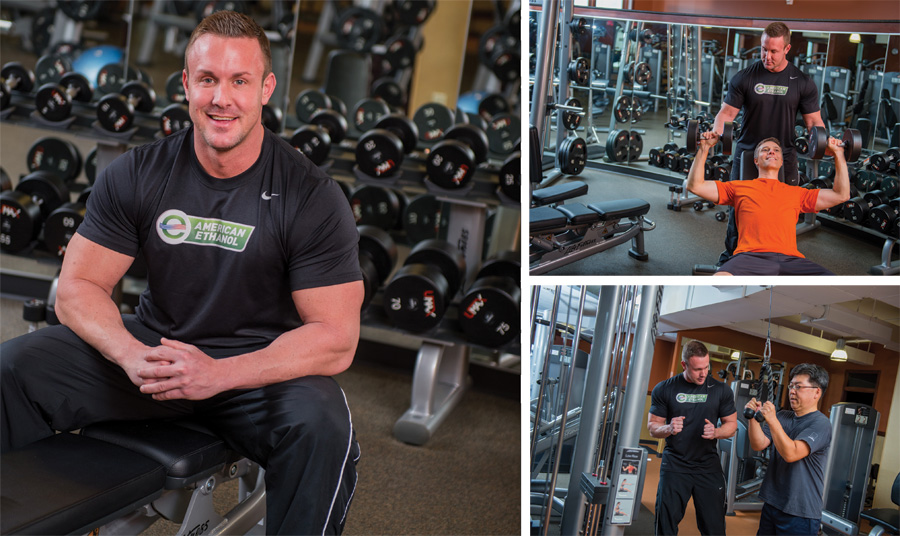 ---
After all, everyone starts somewhere. "I will never judge any type of overweight, underweight, not as toned person who goes to the gym," he says.
---
Fokken should know. After all, he wasn't born with a perfect muscular physique – nobody is.
---
BODYBUILDING BEGINNINGS
---
Fokken didn't have an idyllic childhood. "I came from a tough background," he says. "My parents weren't around. I went through a lot of hard things. I was hurt a lot in life."
---
To counter the hurt, Fokken wanted to be big and strong. "I looked up to guys like Hulk Hogan, and I was obsessed with Superman. He was big and strong and had muscles. He couldn't be hurt."
---
Fokken wanted to be big and strong, too. "From age 5 to age 10, I tried to flex in every picture ever taken of me," he says.
---
As a teenager, Fokken was a good athlete, playing basketball, baseball and football. "But I wasn't strong," he says. "I couldn't even bench press 100 pounds."
---
So in his freshman year at Washington High School in Sioux Falls, Fokken picked up a barbell. "I was determined. I had a goal. I wanted to be big and strong."
---
His hard work paid off. "At one time, I could bench press 450 pounds," he says. "I was big."
---
COMPETING AGAINST HIMSELF – AND OTHERS
---
Competing was always in the back of his head, so in 2010, when he was 29, Fokken decided to give it a shot and entered his first bodybuilding competition. He took third place. Two weeks later, at another show, Fokken took first place.
---
"I was hooked," Fokken says.
---
Since then, he's competed in shows around the country and has picked up 17 sponsors. He's been published hundreds of times, spoken to businesses and universities all over the United States and has been featured in many major fitness magazines – and in the case of Iron Man magazine, appeared on the cover twice. Most recently, Fokken received his International Federation of BodyBuilders (IFBB) Pro Card at the IFBB North American show in September.
---
"He's driven to succeed," says Ned Sacipovic, a Sioux Falls trainer who has helped Fokken train for shows. "He works hard. He never takes shortcuts to anything."
---
Fokken admits to being a bit of a workaholic. Between POET, traveling to fitness expos, making appearances on behalf of his sponsors and writing content for various online outlets, there aren't a lot of hours at the end of the day to just sit and relax.
---
"Fun? What's fun?" he says with a laugh. "I work too much to have fun."
---
That's not entirely true. It's just that Fokken is more of a homebody than a party animal. Fokken would rather be at home with his wife Amber Fokken, who is a bikini competitor and fitness professional, than jet-setting around the country.
---
HOME IS WHERE THE HEART IS
---
"I'm a simple person. I don't need a lot to make me happy," Fokken says. "I love the lifestyle here. I love home. We travel a lot, and when we fly in and I can see the Cathedral from the air, I feel complete. I could get a wellness coordinator job anywhere, but Sioux Falls is home to me. It always will be."
---
Downtime is spent with friends and family. "We like to cook, but we also like to go out to eat," he says. "We walk and talk a lot. We're regular people just like everyone else."
---
Like many homeowners, the Fokkens spend a lot of time on do-it-yourself projects – everything from small weekend projects like putting epoxy on the garage floor to larger jobs, like the bathroom remodel that's next on their to-do list.
---
They also spend a lot of time with their dog, Alpha, a cross between a pit bull and husky. "We're working hard at training him. Our goal is to make him a therapy dog and take him to hospitals."
---
They also have a Bengal cat named Gotham. "They're bread from Asian leopards and are spotted and bigger than ordinary cats," Fokken says. "They're actually smarter than dogs."
---
Though dogs and cats don't always mesh, the Fokken animals get along together just fine. "We call them brothers," Fokken says. "They love each other."
---
The Fokkens love their "fur babies," but they also long for a child of their own. "We really want to start a family this year."
---
FOCUS ON FITNESS
---
Until then, Fokken will continue to preach the importance of fitness – and not just at the corporate office in Sioux Falls. POET is currently rolling out Energy Centers to each biorefining location. It's an important – and exciting – endeavor, he says.
---
"If you invest in a team member's health, both physical and mental – you get a happier, healthier, more productive team member," Fokken says. "They have more energy, they're more focused and they're more driven."
---
In addition to his work at POET, Fokken is now part of the American Ethanol athlete team. Promoting ethanol use is a natural extension of his work in the fitness industry, Fokken says.
---
"We put clean fuel in our bodies, which is the 'environment' that we want to protect," he says. "We put ethanol in our cars to protect and preserve the environment that we live in."
---
Hard work is the key to Fokken's success. But the downside of his physical accomplishments is that some people don't look past his body.
---
"They assume he's arrogant or egotistical – maybe even stupid," Amber Fokken says. "But Brandan couldn't be farther from that meathead stereotype. He's got a lot of depth and a lot of drive. Just like with any stereotype, you have to give the person a chance. You can't judge a book by its cover."
---
But Fokken doesn't let that bother him. Instead, he takes the time to get to know people on a personal level. He wants to know what drives them, what their motivations are for getting into the gym.
---
"I always wanted to help people – and now, I'm able to do that," Fokken says. "Really, that's all that matters in life."
---