---
While many leaders cite the old cliché that "there is no 'I' in team," Dean Watson truly walks the walk.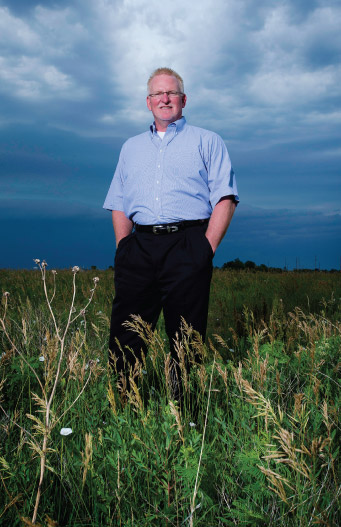 ---
Watson has worked in top-level jobs in different segments of the energy industry for almost three decades, spending the last five years at POET Ethanol Products growing the company's CO2 business and building the denaturant business from the ground up. What matters most to Watson, though, aren't his personal achievements but his team's accomplishments – and preparing the next generation of workers for success.
---
"Watching the young people at POET take hold and grow is the biggest reward of my job," Watson says. "I'm at the stage of my career where, sure, it's fun to do the next deal. But what's even more fun is helping these team members who are all working hard and really want to be successful. If you go back throughout my career, a lot of people I've worked with, developed and mentored have grown up to be very successful. That's what I'm most proud of."
---
Coaching and mentoring is in Watson's blood. Watson's mother was a teacher and his father worked at Kansas State University. He grew up with two older brothers and a younger sister in an atmosphere of hard work and high expectations.
---
"Failure just wasn't an option," says the Manhattan, Kansas native.
---
In junior high, Watson got his first taste of leadership as captain of his wrestling and football teams. In high school, Watson went on to captain his track, wrestling, and football teams, and he made All-State in all three sports. As an accounting and business finance student at Kansas State University, he was elected president of his fraternity.
---
Watson's passion for leadership served him well after college when he went to work for Wichita, Kansas-based Koch Industries. Bob Casper, who is now President of POET Ethanol Products, also worked at Koch at the time and remembers the young Watson as a tireless go-getter.
---
"He was a very strategic thinker who had a lot of energy and a lot of motivation to create and produce," Casper says.
---
From early on, Watson was an effective leader because of his high level of "conviction and confidence," Casper notes.
---
During Watson's 18 years at Koch, he worked in many different roles—from scheduling and distribution to supply to commercial development—in business segments including solid fuels, fertilizers, agricultural products and more.
---
"I've done a lot, from the back end of the shovel to the board room," Watson says. Watson had worked his way up to a position as a vice president at Koch when he left the company to work in the entrepreneurial environment of a start-up polymer business and then moved on to a retail propane business.
---
"Most of my career has been spent working in what would be considered 'difficult' businesses," Watson says. "Some of them have been successes when you walk in the door, but most have been 'do-overs' or building something up from scratch. To me, that's exciting."
---
Rick Kreul, Director of Business Development for Dallas-based Exterran, worked for Watson at the Kansas City-based propane business, and was impressed by his boss's vision, talent for customer relations and natural ability to engage the workforce. The two men connected over their mutual love of sports. And although Kreul was five years older than Watson and had previously worked in senior positions himself, "during my three years working with Dean, I learned a lot from him. He's confident and approachable, and very fun to be around."
---
Watson joined POET Ethanol Products in 2006 after he decided to relocate his family from Kansas City back to Wichita. He called his old friend Bob Casper – who had started POET Ethanol Products about six years earlier – to inquire about job opportunities, and was soon offered a position heading up the already established liquid CO2 business.
---
Since Watson took the reins five years ago, the company's CO2 sales have increased significantly.
---
"We've gone from not having our POET capacity sold out to selling product outside the POET system," Watson says. "And we're moving more CO2 today using the same amount of equipment we had five years ago."
---
In addition, Watson started the company's denaturant business from an internal function to a full grown business. (Denaturant is used in fuel ethanol production to make the finished product unsuitable for human consumption.)
---
"We started at essentially zero five years ago and have become the largest denaturant marketer in the ethanol industry," he says. "It comes down to having the best price, quality and customer service every day."
---
The fact that the CO2 and denaturant businesses are thriving under Watson's tutelage is no surprise to Andrea Craig, Denaturant Marketer for POET Ethanol Products.
---
"Dean is willing to come in and take the risk involved in starting a new business," says Craig, who worked under Watson's leadership to get the denaturant business up and running. "He has a vision of where he wants to go and then just dives into a new project with 100 percent focus. He grinds and grinds until he gets to where he wants to be."
---
Shortly after Watson came on board at POET Ethanol Products, Craig and Watson drove 1,600 miles in four days together, meeting the general managers at a dozen ethanol plants around the Midwest. While Craig had met these folks previously, Watson "needed to learn who they were and what they were about," Craig said.
---
Watson was persistently good-natured and enthusiastic throughout the trip, and began each day with "renewed vigor."
---
"His attitude was contagious," Craig said. "Because he was willing to do that, I was right there behind him. He's so encouraging of us, and he wants us to succeed. We know that instead of looking out for himself, he's always looking out for his team."
---
Watson himself summarizes his management style – and the key to why the CO2 and denaturant businesses at POET Ethanol Products are flourishing: "My motto is 'success through others.' As long as I give the team the right guidance and the tools they need to succeed, they'll take care of the rest of it."
---