About Vital
Vital is a news & media resource published by POET, presenting a variety of stories with the thought leadership one expects from the largest, most forward-thinking ethanol producer. A unique publication in the industry, Vital is putting a face on the ethanol industry. Vital serves the online community with relevant articles, photos, videos, infographics and other resources, and also publishes a quarterly print edition focusing on four main themes:
The future of ethanol
Community profiles
Industry information
Environmental advancements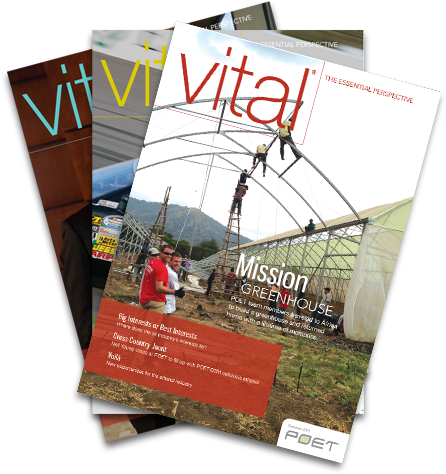 About POET
POET, one of the largest ethanol producers in the world, is a leader in biorefining through its efficient, vertically integrated approach to production. POET has a production capacity of more than 1.7 billion gallons of ethanol and 9 billion pounds of high-protein animal feed annually from 28 production facilities nationwide. POET has also teamed up with Royal DSM to break ground on Project LIBERTY in Emmetsburg, Iowa - a commercial cellulosic ethanol plant which uses cellulosic materials. For more information on POET, visit http://www.poet.com.